Servings: 3-4
Preparation time: 8 minutes.
Frying time: 10 minutes.
Cooking time: 4 minute
Total time: 22 minutes.
Aaloo (potato) is eaten every house in India and it is the second most food crop after rice and wheat.
One lazy Sunday morning while having tea in our balcony we were busy gossiping about our Rawat bhata life, where we had large circle of friends living in the same cluster of building.
During rainy season, every now and then we use to cook fritters with evening tea followed by delicious tangy "Aaloo Tamater Curry (Potato- Tomato Curry) paired with chapatti to finish our dinner.
This memory forced me to cook this recipe as the lazy Sunday was also had rainy weather. I am going to post the recipe today…have a nice day…
Ingredients:
Potato: 250 gm.
Tomato: 150 gm
Onion: 1 no. (Medium)
Ginger: 1"piece
Mustard oil /cooking oil: 50 ml.
Chili powder: ½ teaspoon (as per your taste)
Coriander powder: 1 teaspoon
Turmeric powder: ¼ teaspoon
Mint/Coriander leaves: 2 tablespoon (chopped)
Garam masala powder: ½ teaspoon
Cumin seed: ½ teaspoon
Bay leaf: 1 no.
Salt: 1 teaspoon (as per taste)
Preparation:
Peel off and cut potato into cubes, keep aside.
Chop onion and tomato, Keep aside.
Chop ginger into fine pieces, keep aside.
Method:
Take pressure cooker, put oil and heat, when it smokes add cumin seeds; Sputter for few seconds add ginger and onion, fry on high flame for couple of minutes or till onion gets translucent.
Add tomato and fry on medium flame for couple of minutes; add chili powder, coriander powder, turmeric powder and salt.
Stir fry on minimum flame for 2-3 minutes or till oil separates from the masala; add potato, stir and continue to fry on medium flame, add one cup of water close the lid, place the cooker on high flame, bring to full cooking pressure and put off the flame.
Allow cooker to cool and open, add Garam masala powder and mint leaves, close the lid for couple of minutes, so that the flavor of Garam masala and mint leaves infuses into the recipe.
"Aaloo Tamater Curry (Potato- Tomato Curry)" is ready. Take out into serving bowl and decorate with green coriander/ mint, serve along with Chapatti, chana dal pulao or cumin rice.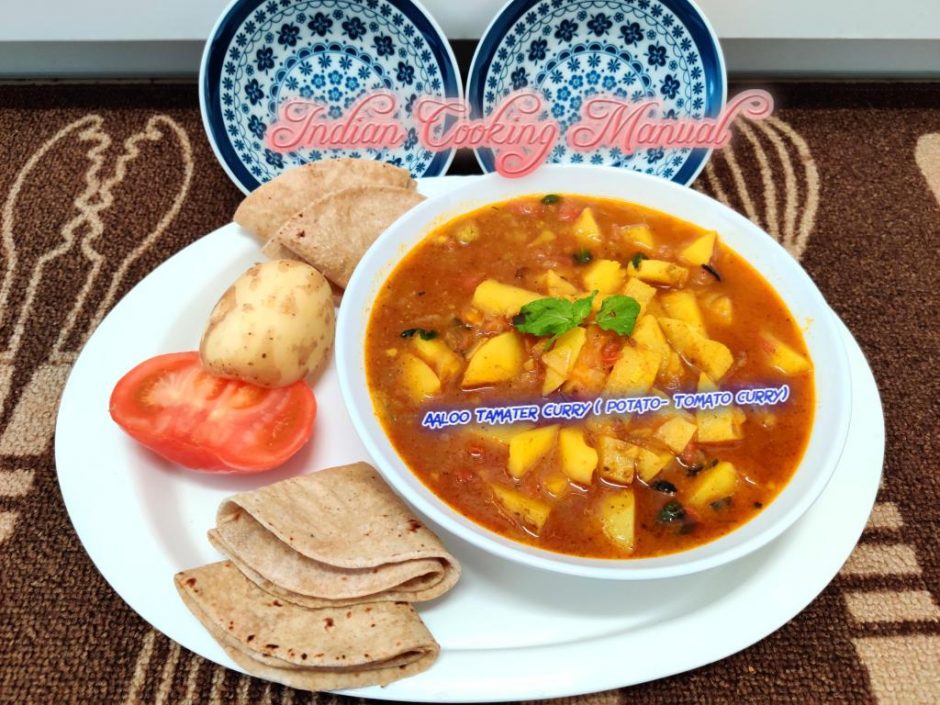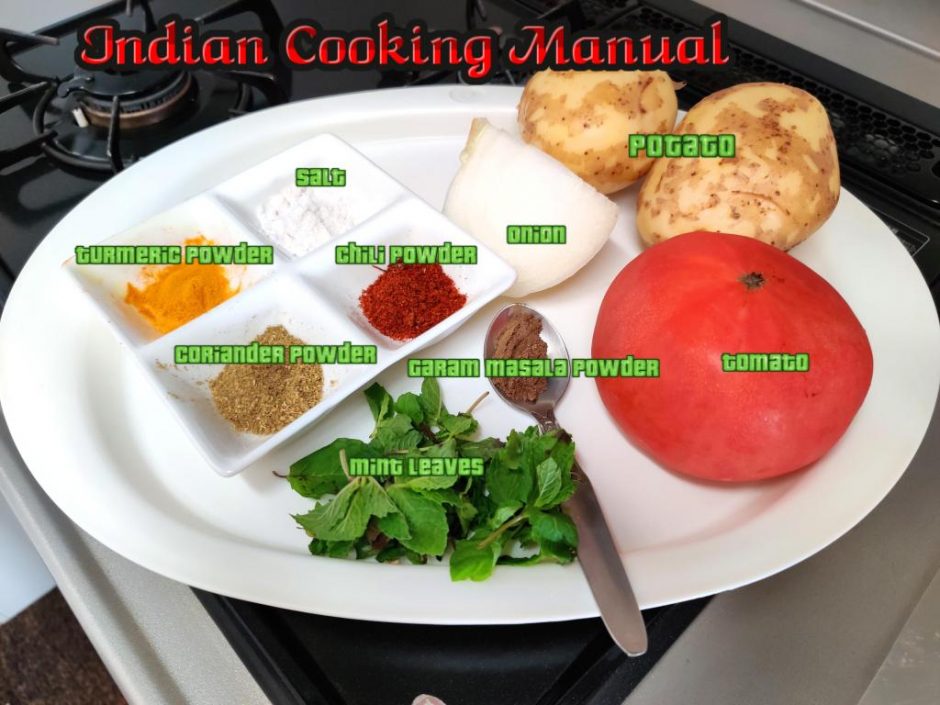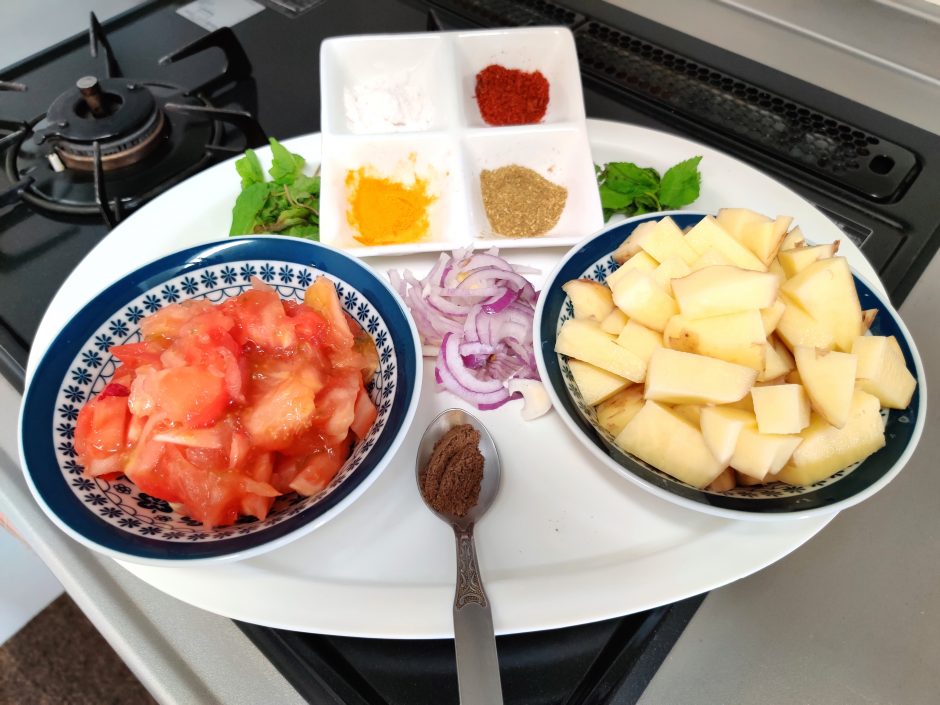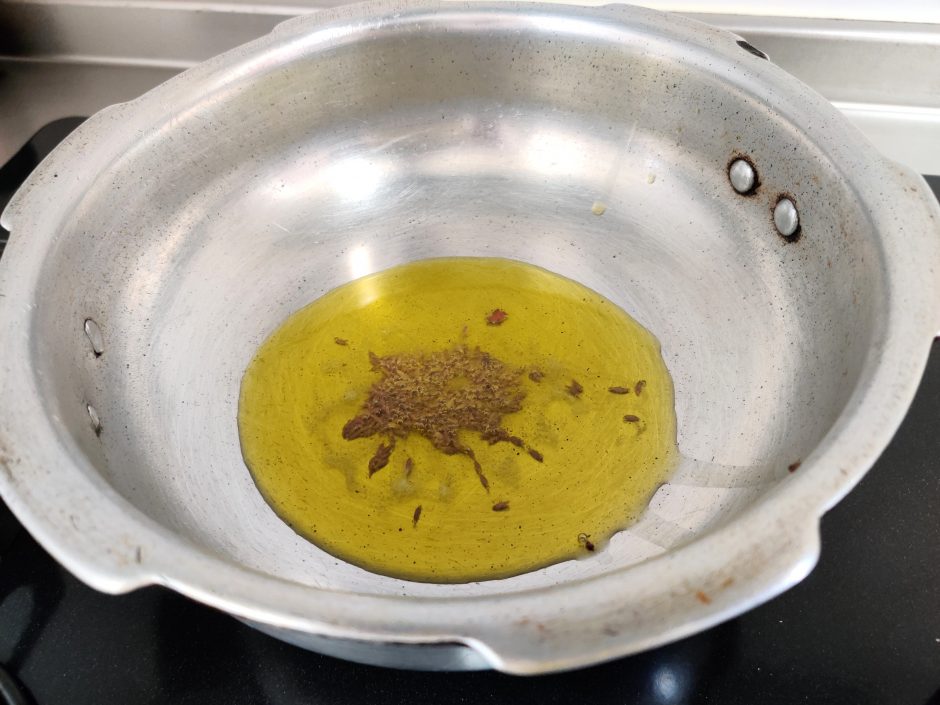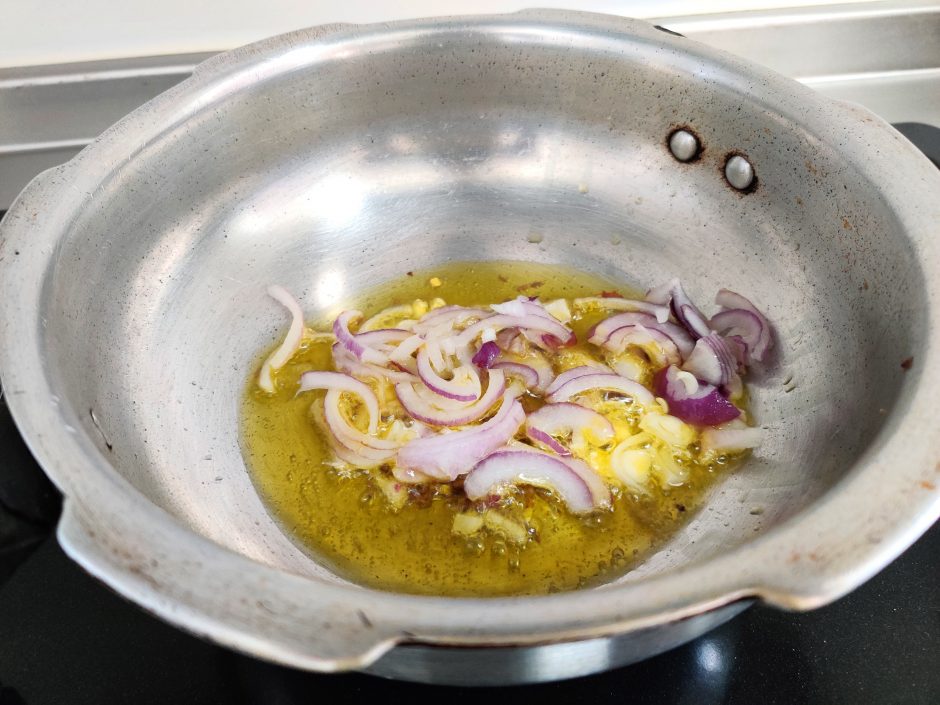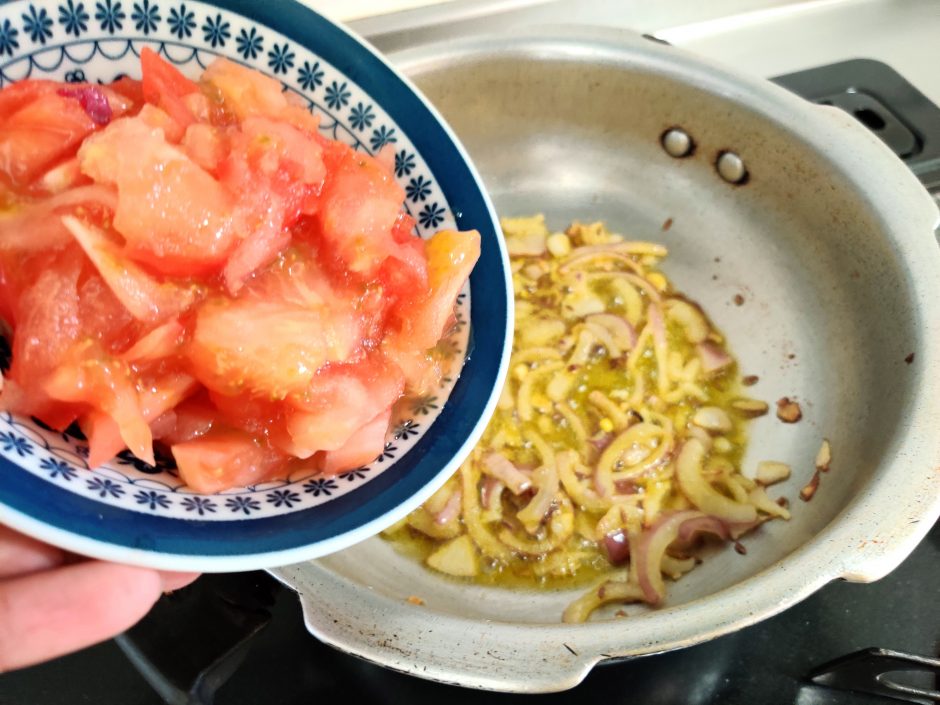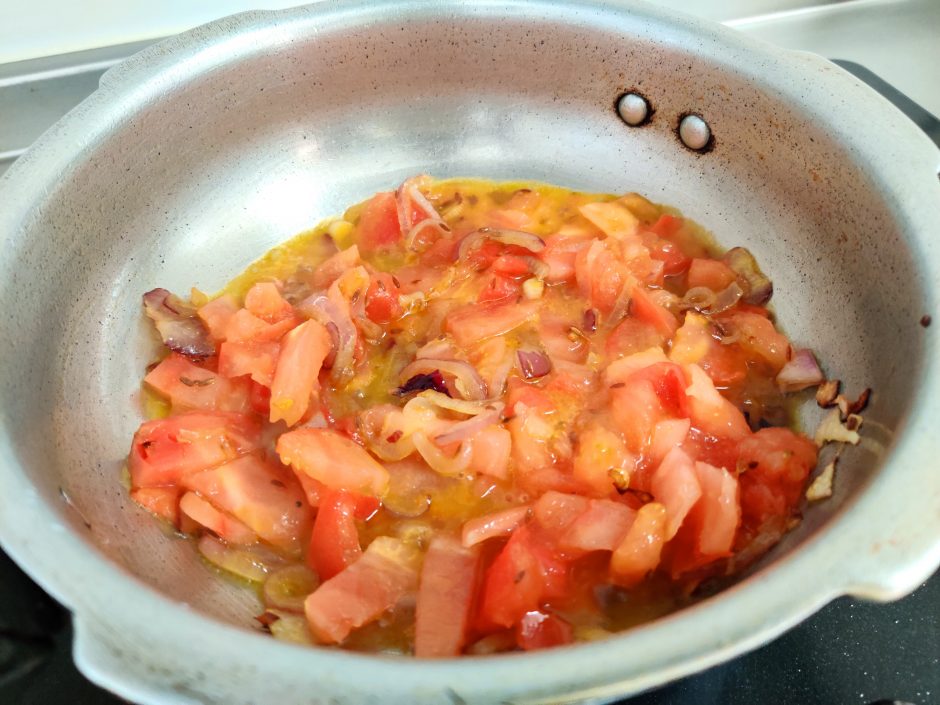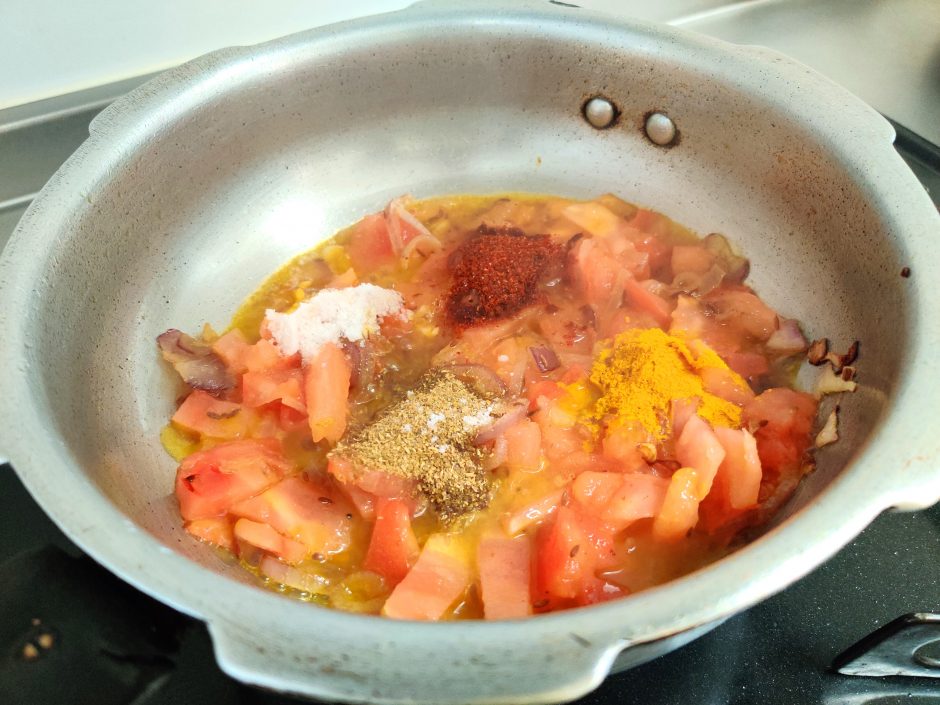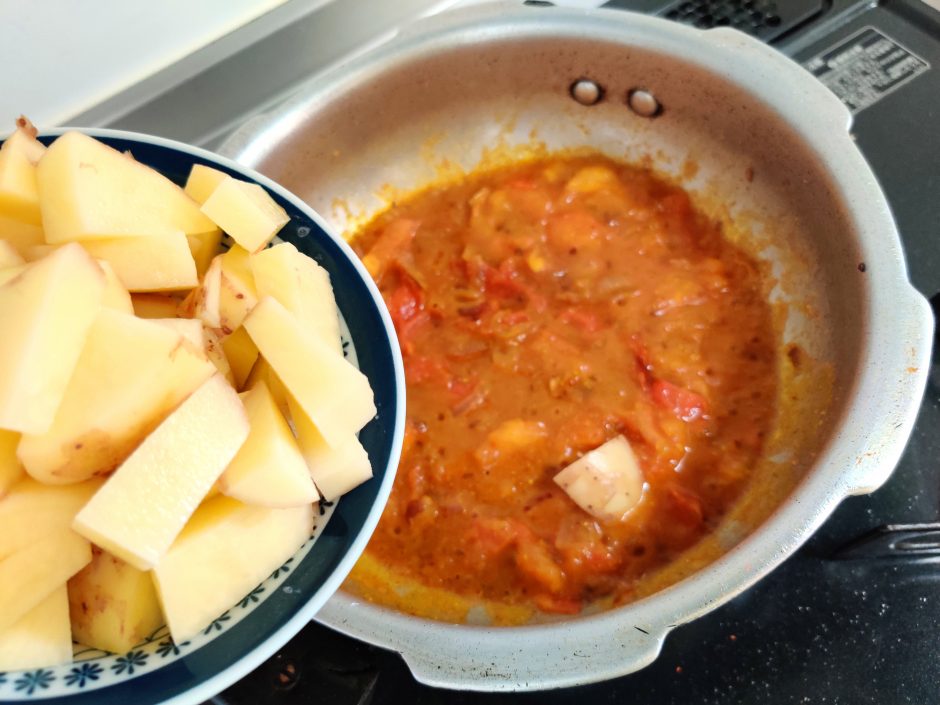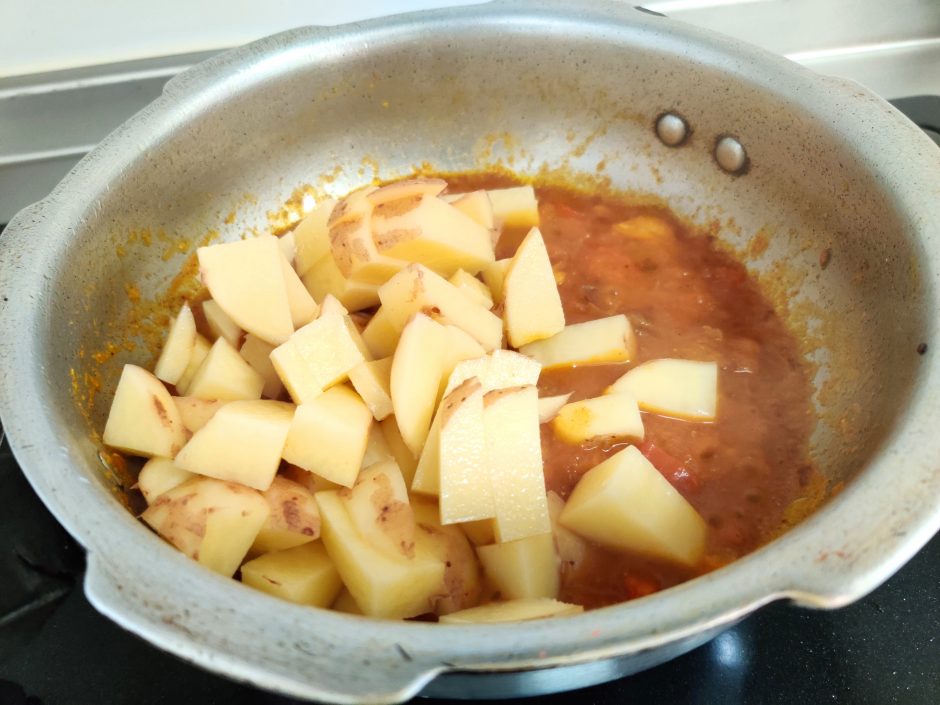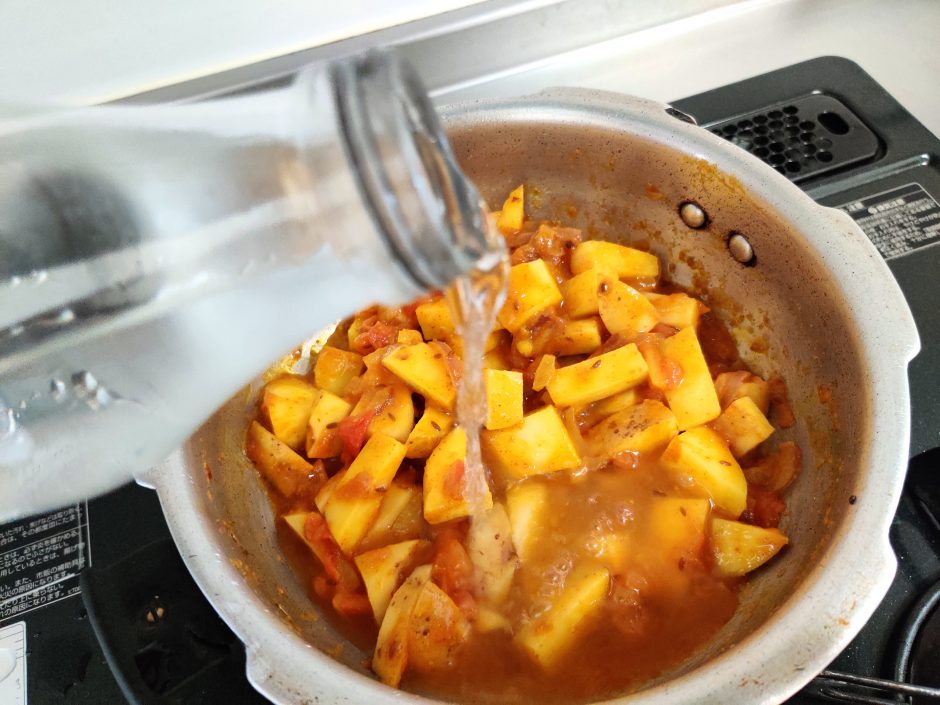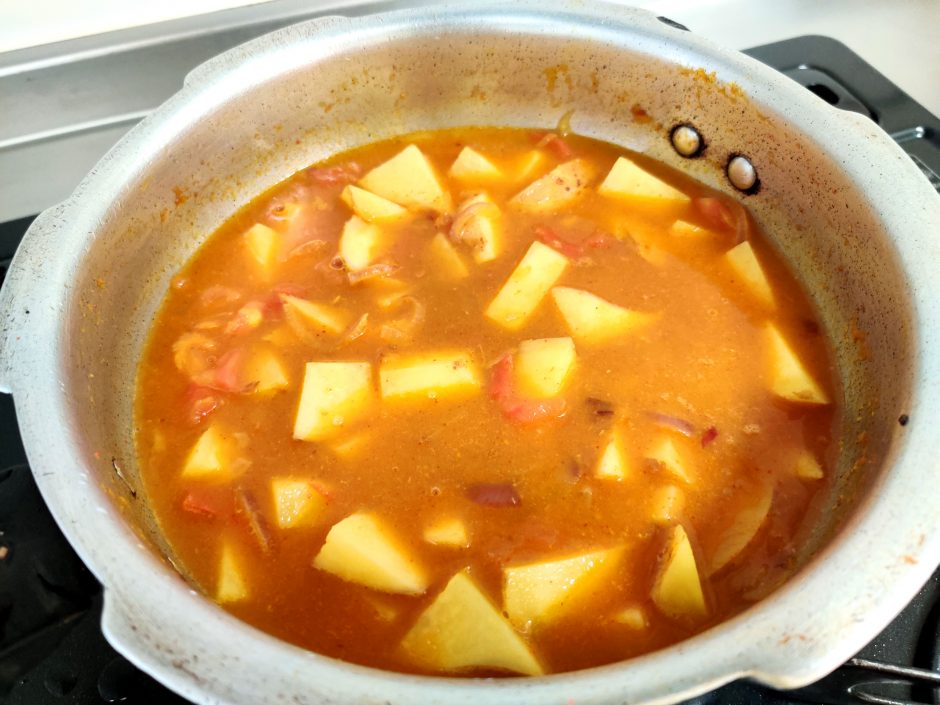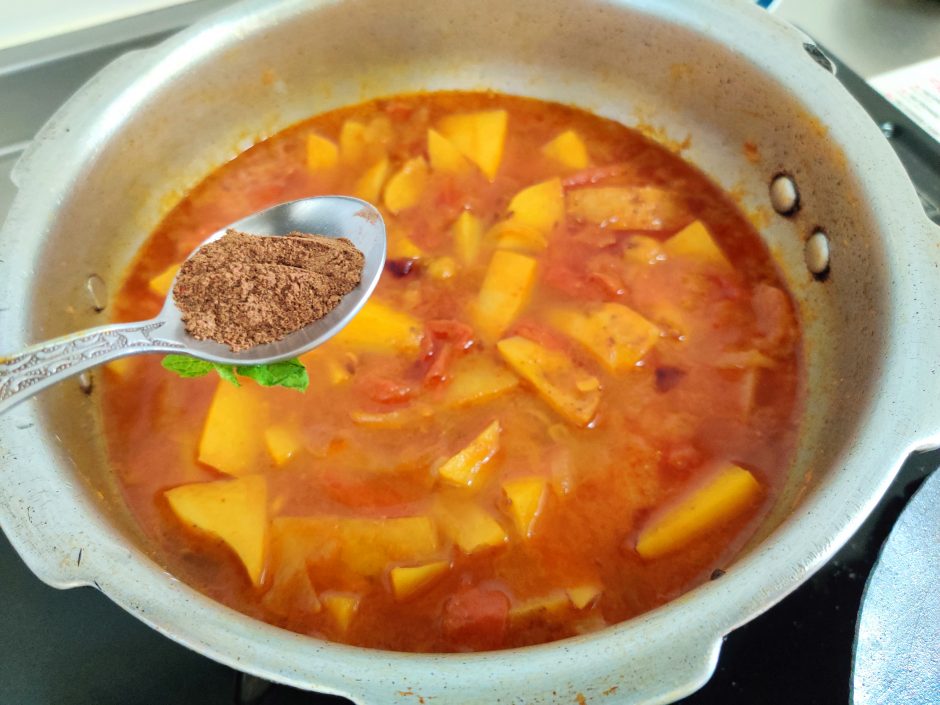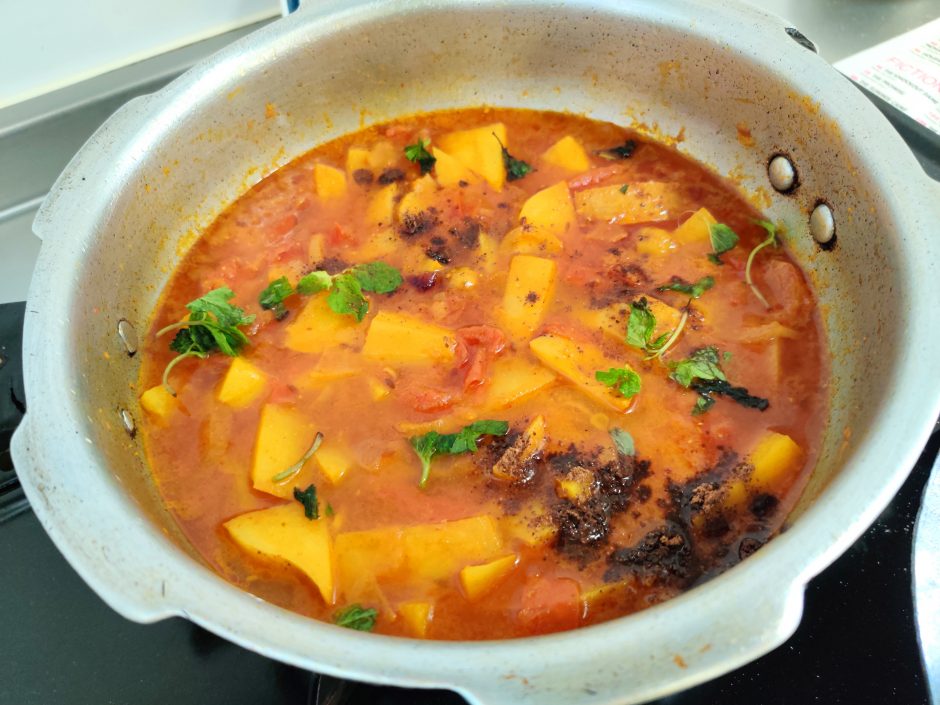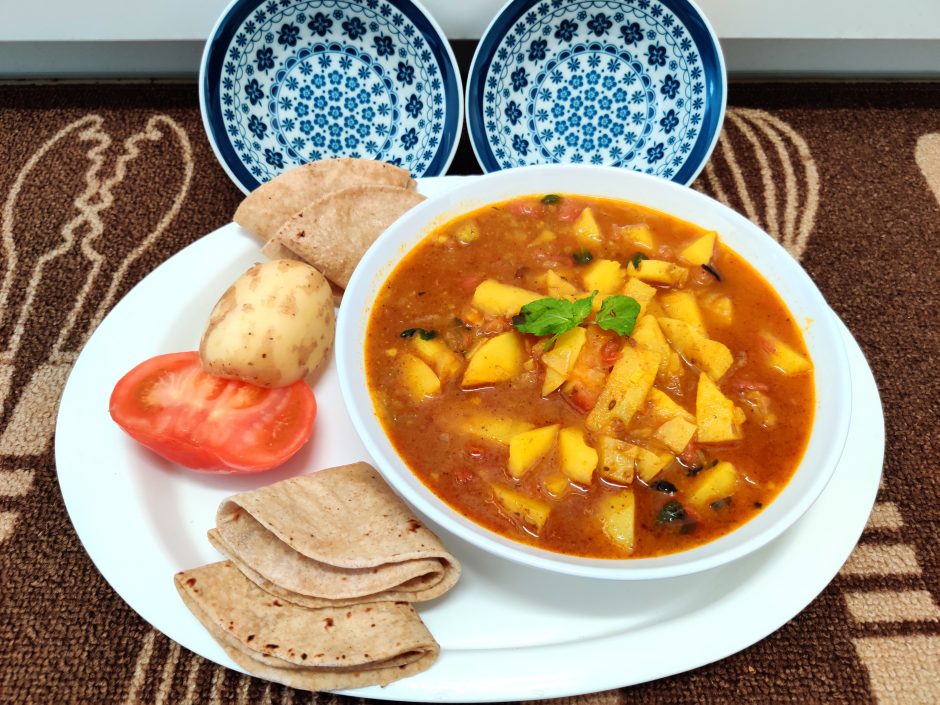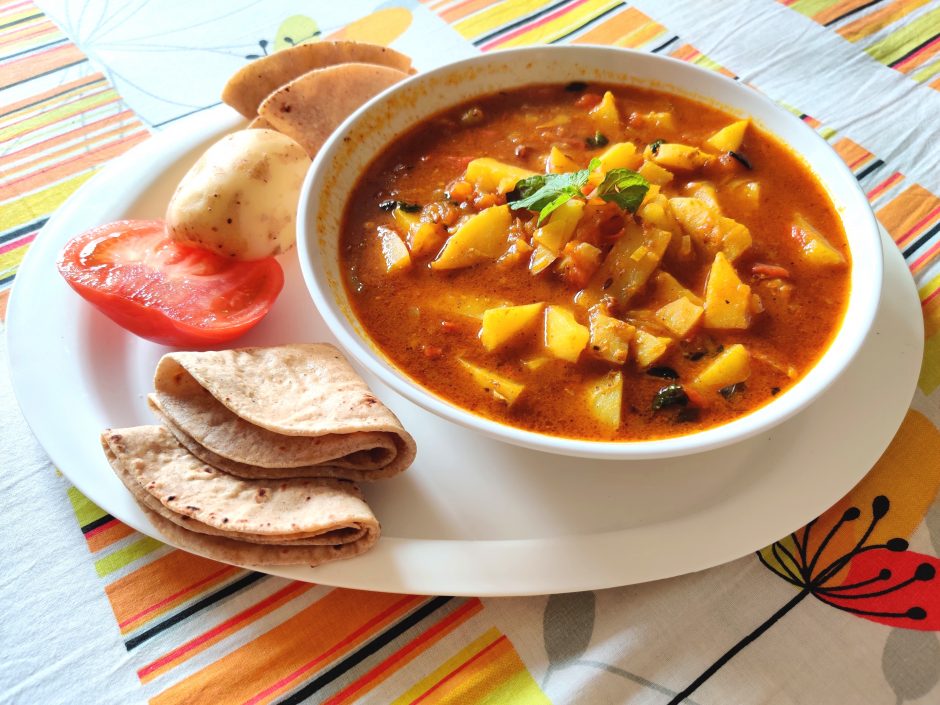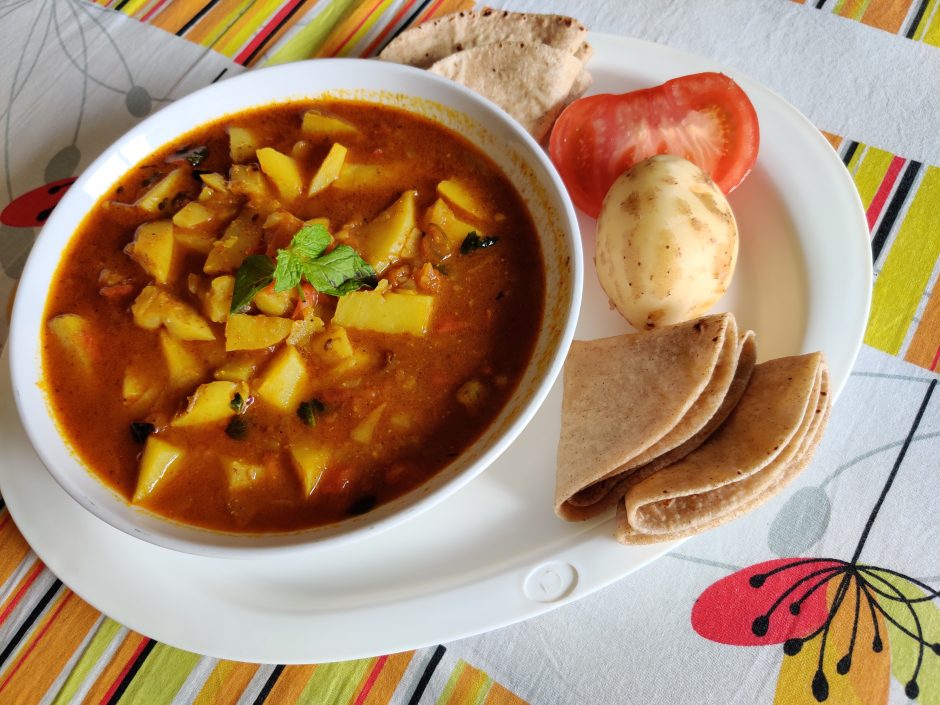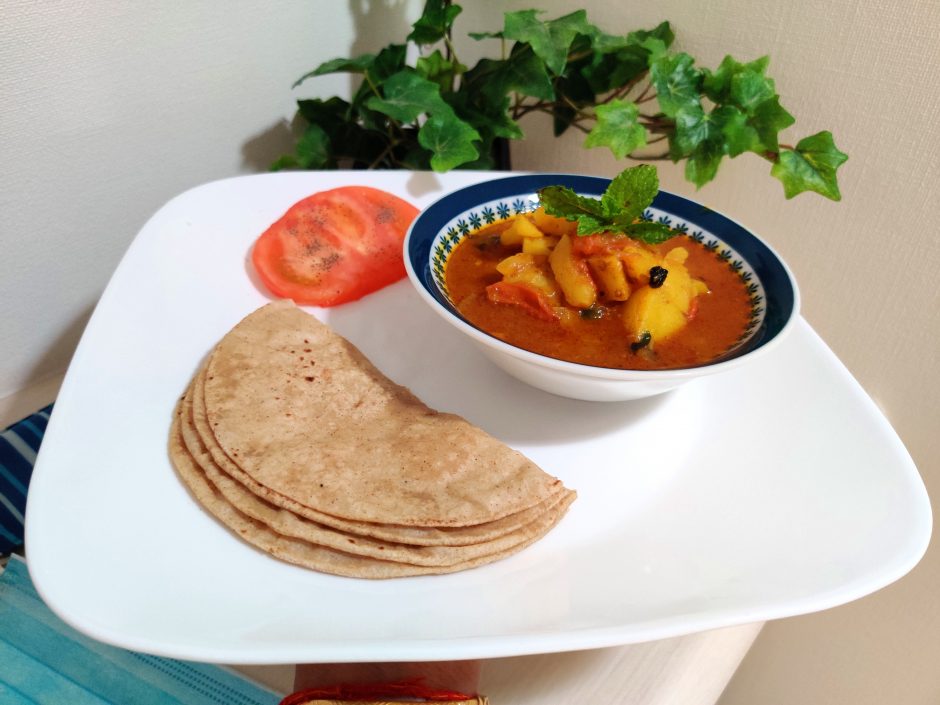 Aaloo Tamater Curry (Potato- Tomato Curry) by Nag Ratna Sahu is licensed under a Creative Commons Attribution-NonCommercial-ShareAlike 4.0 International License.