Servings: 2
Kneading time: 3 minutes.
Rolling time: 1 minutes (each).
Cooking time: 1 minutes (each).
Total time: 5 minutes.
Missie Roti is one of the most delicious varieties of bread in the bread basket served in restaurant; the old history about this bread is in the Ramcharitmanas in ancient era, some say that it was originated from Indus valley civilization about 5000 years ago.
The fact is that it is popular among Rajasthani and Punjabi cuisine till now in India. The taste and nutritional values are amazing.
In my opinion it is perfect meal on lazy Sunday and perfect for lunch boxes too, I often used it as travel food; in that case preferred to roast it with generous amount of ghee (clarified butter).
Ingredients:
Aata (wheat flour): 1 cup
Besan/ gram flour (Chick pea flour): ½ cup
Salt: 1 teaspoon
Chili powder: ½ teaspoon
Asafoetida: ¼ teaspoon
Cumin: ½ teaspoon
Ajwain (carom seed): ½ teaspoon
Fresh coriander leaves: 2 tablespoon
Water: ¾ cup
Aata: 50 gm. (for rolling)
Ghee: for smearing
Preparation:
For making dough:
Take a wide vessel; pour Aata and all ingredients except ghee; add water in small quantity and knead them, till the dough becomes soft.
(The dough can be made in food processor also)
Cover and Keep aside, to be used after 10-20 minutes.
Method:
Make lemon size balls; dust ball with Aata and roll the chapati with equal pressure all around, roll 5-6"diameter, use small quantity of wheat flour to dust while rolling.
Put this rolled raw roti on hot tawa; cook for few seconds on high flame till it changes the color. Turn to other side, this side to be cooked slightly more than 1st side. Now hold the roti with tongs and put directly on fire, first side on flame, the roti will start to puff up. Take it off the flame before it start burning. The missie roti is ready.
You can puff roti on tawa (instead of flame) by pressing it lightly with kitchen towel, it will puff up.
Smear some ghee all over the roti; it is ready to be served hot or warm.
Note:
It is important to cook roti on high flame, it will be soft.
Kneading with hot water makes roti soft.
You can knead with milk or whey (left over water of paneer).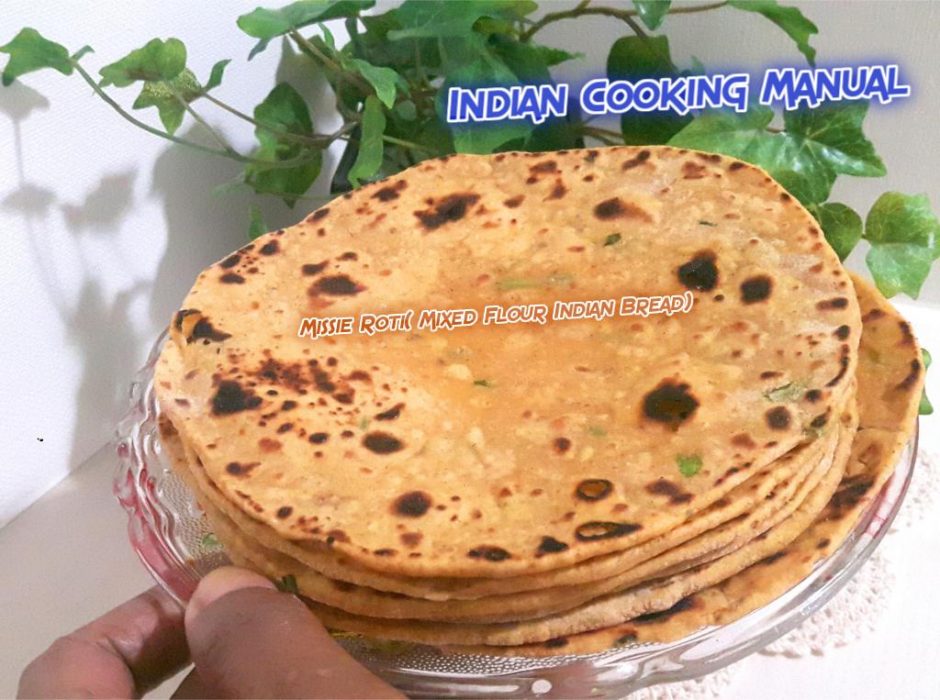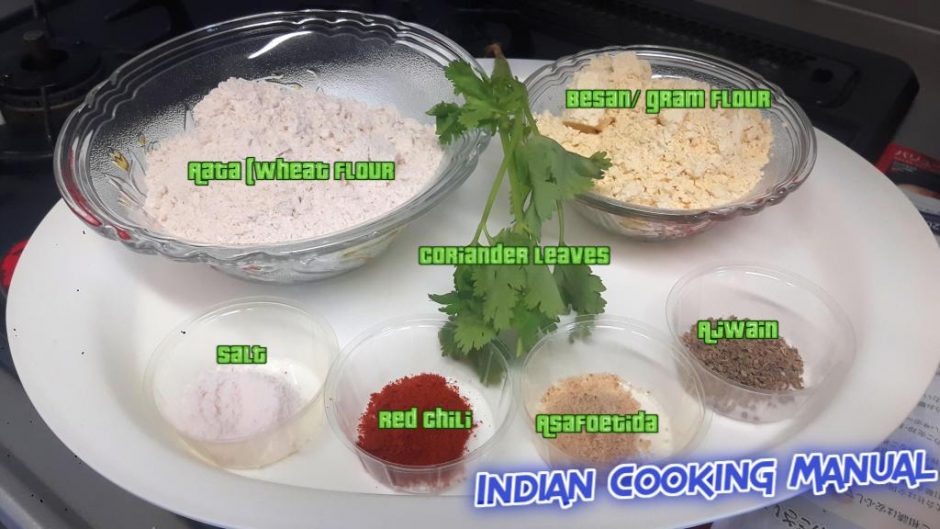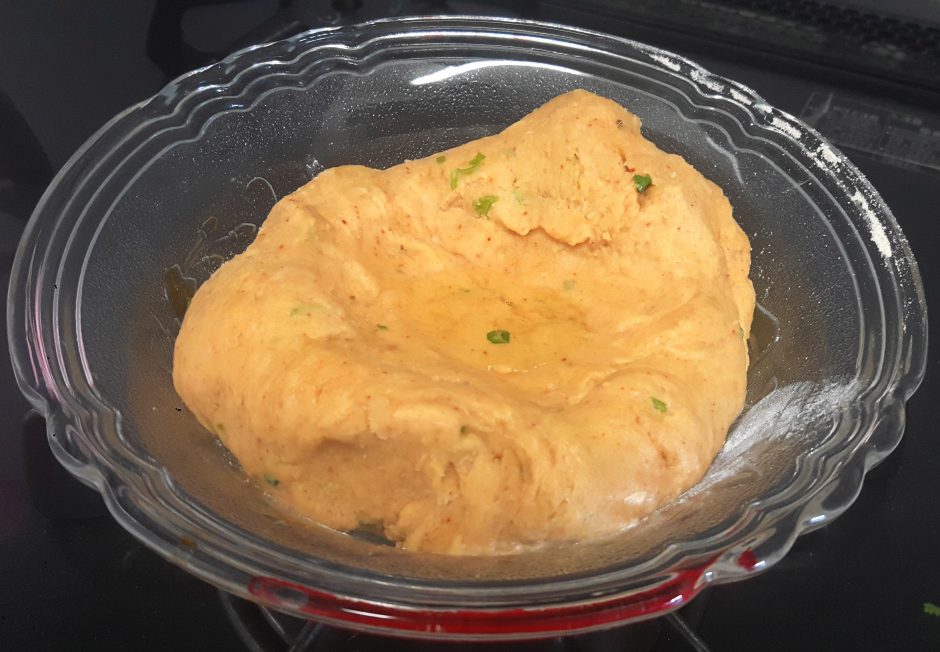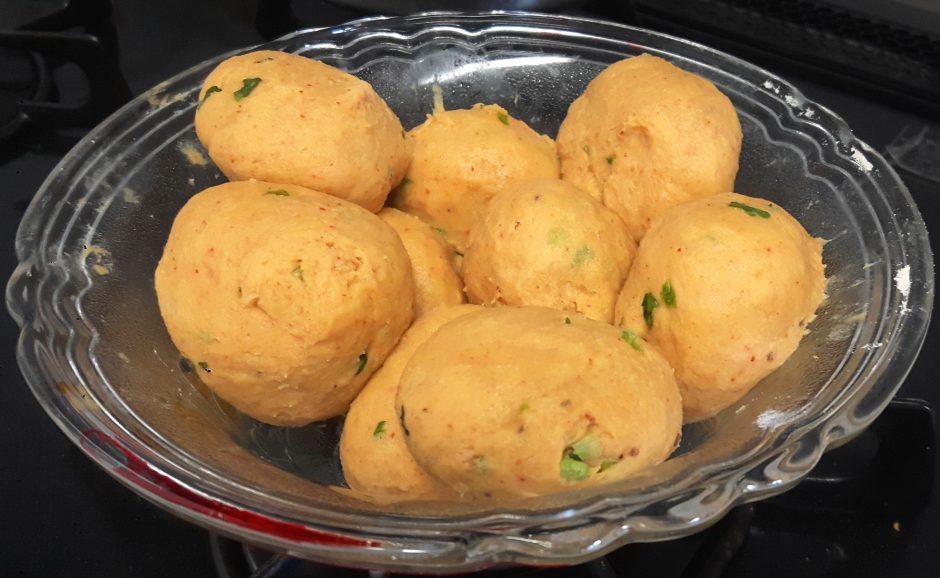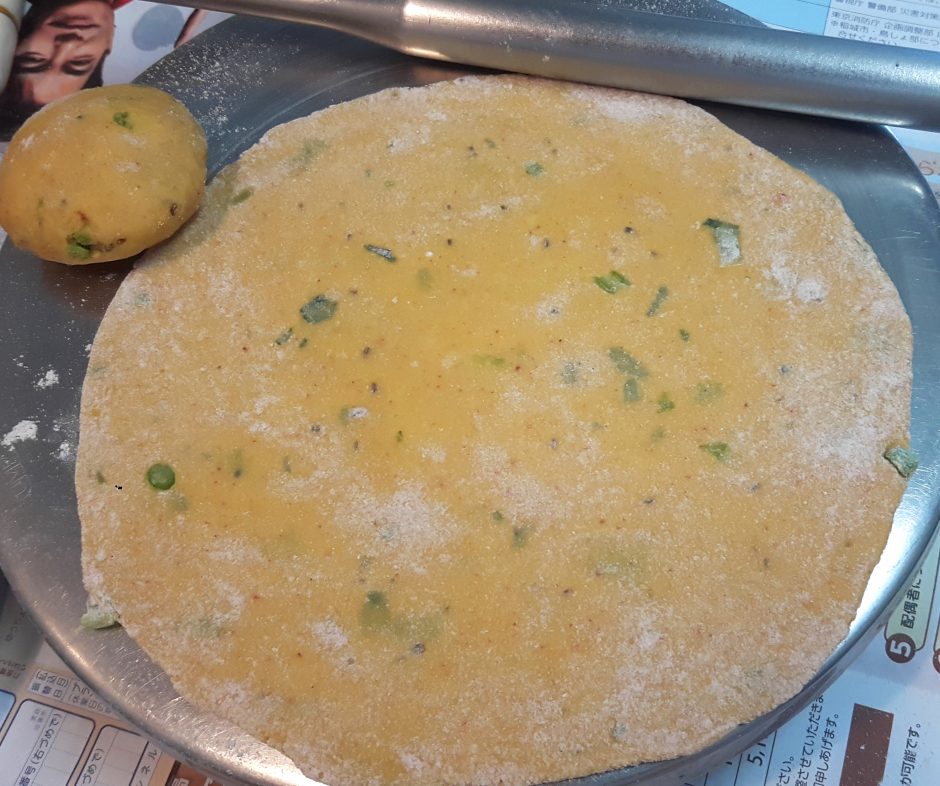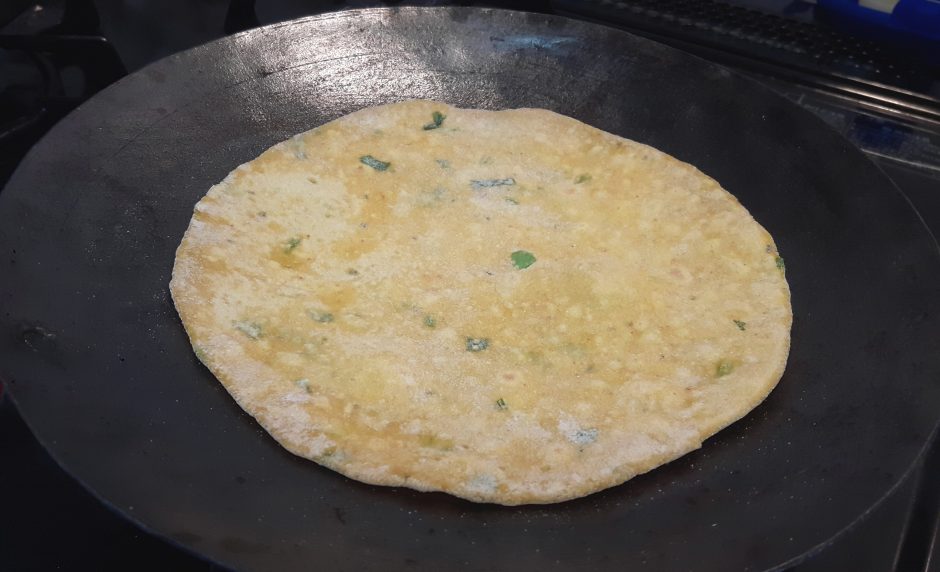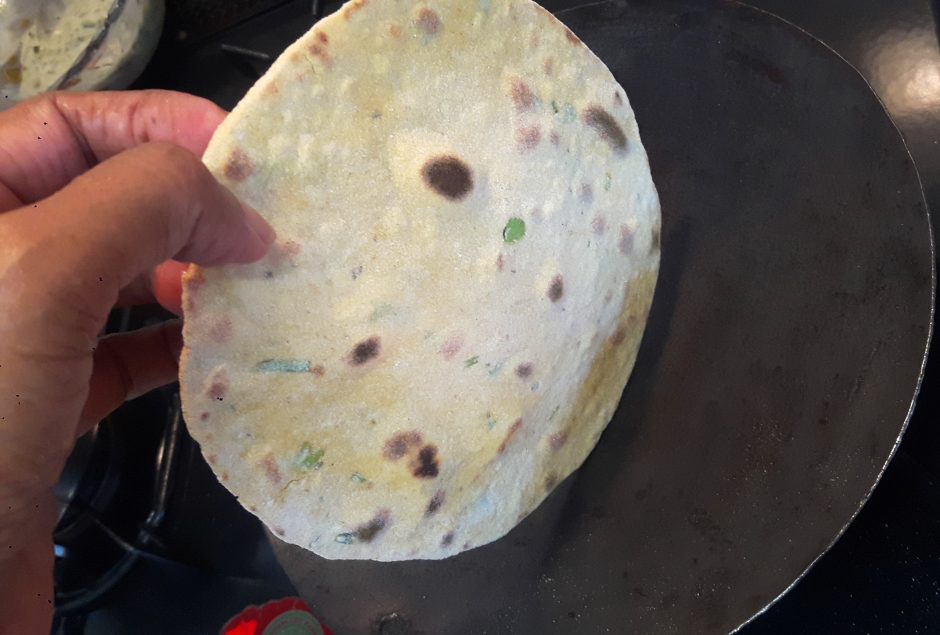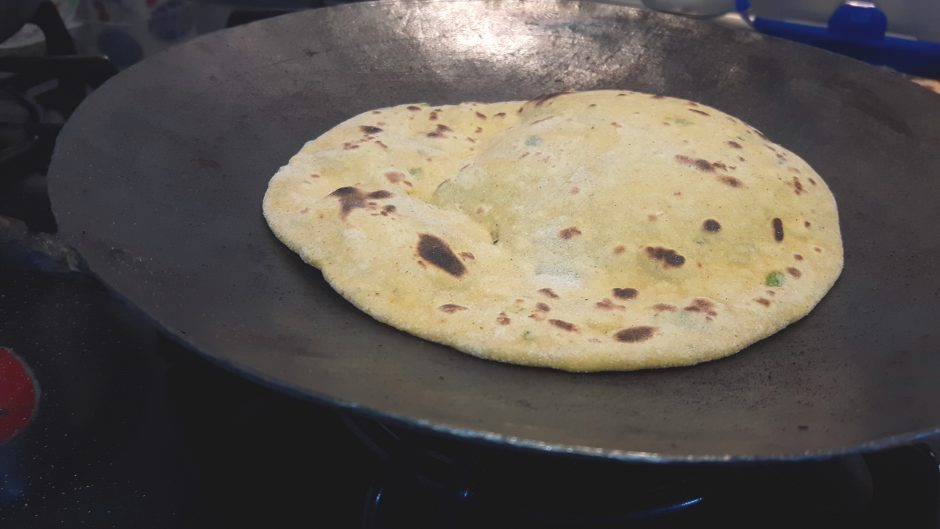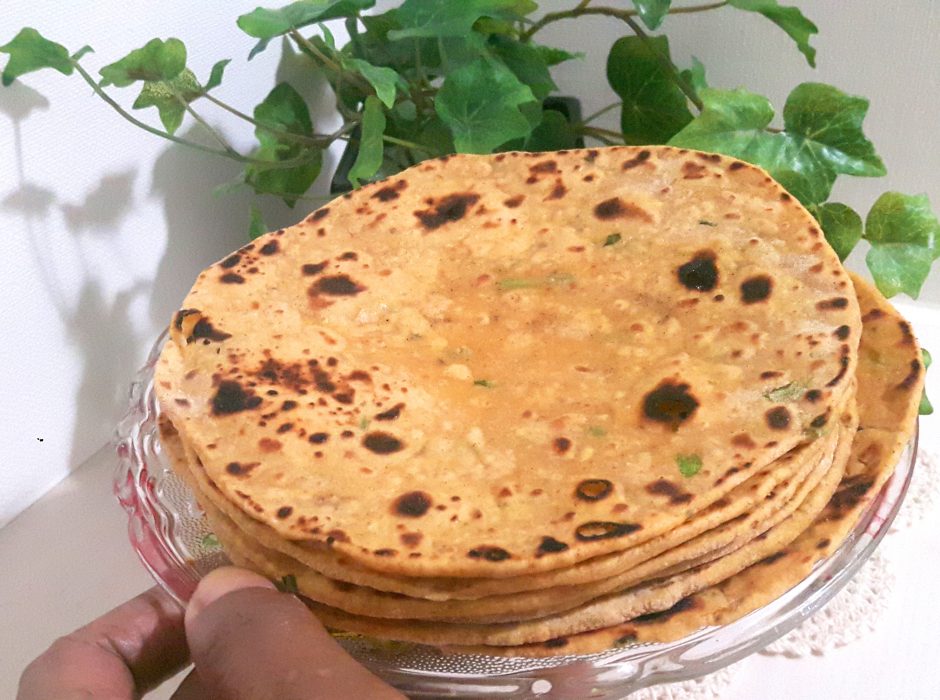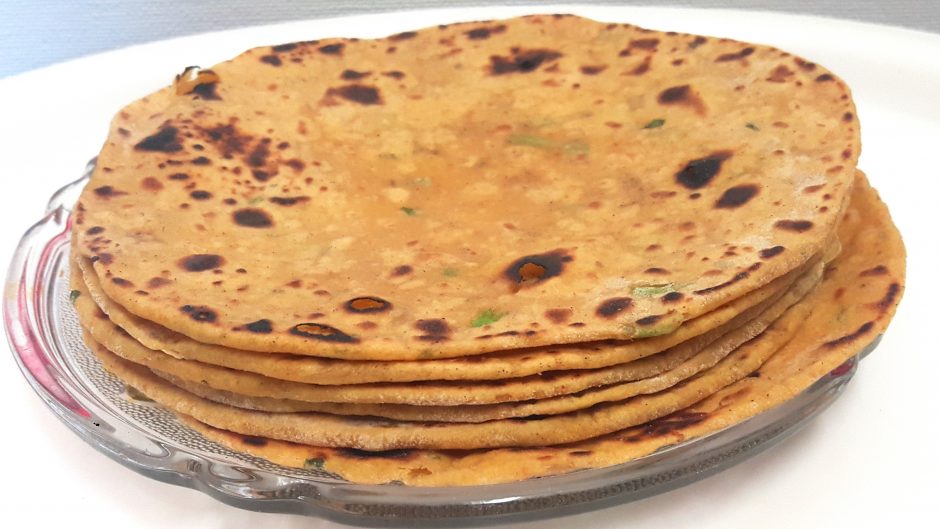 Missie Roti/ chapatti (Mixed Flour Indian Bread) by Nag Ratna Sahu is licensed under a Creative Commons Attribution-NonCommercial-ShareAlike 4.0 International License.