Servings: 2-3
Soaking time: 6 hours
Preparation time: 3 minutes.
Frying time: 11 minutes.
Cooking time: 8 minutes.
Seasoning/tadka time: 2 minute
Total time: 24 minutes.
Dal is staple food of Indian and Indian continent; and every region has its own verities and deliciousness.
The recipe 'Sabut Mung tadka (Whole green gram fry)'is suitable for casual dining as well as for special occasion too.
The bowl of "Sabut Mung tadka (Whole green gram Dal fry)" with basmati rice use to comfort me like nothing else, can be served hot with warm chapatti, Roti, rice, Jeera rice etc…
Mung dal is packed with protein, rich in potassium and iron; protect against muscles cramping, and great food for those suffering from hypertension.
Ingredients:
Sabut Mung (Whole green gram): 150 gm.
Onion: 1 no. (Medium)
Tomato: 2-3 no. (Medium)
Green chili: 2-3 no.
Red chili powder: 1 teaspoon
Turmeric powder: half teaspoon
Ginger: 2"piece
Garlic: 3-4 cloves
Cumin seed: 2 teaspoon
Whole Garam masala: (Black cardamom: 1 no, Green cardamom: 1 no. Clove: 3-4 no, Black pepper: 10-12 no, Cinnamon stick: 1 inch)
Bay leaf: 2 no.
Salt: 2 teaspoon
Whole Red chili: 1 no.
Cooking oil: 1 teaspoon
Ghee: 50 gm.
Garam masala powder: ¼ teaspoon
Green coriander: 1 table spoon
Preparation:
Soak green gram, minimum 6 hours or overnight, keep aside.
Chop tomato, onion, green chili and garlic, keep aside.
Grate ginger, keep aside.
Method:
Take pressure cooker heat half quantity of ghee; add whole Garam masala and Bay leaf, sputter it for few seconds; add grated ginger and garlic, fry for few seconds, add chopped onion and green chili; fry it on medium flame till onion turns translucent (3-4 minutes).
Add chopped tomatoes, salt and turmeric powder; stir-fry till tomato gets messy in appearance (Two minutes). Add soaked Mung, stir fry for couple of minutes at medium flame; add 3 cups of water, Bring to full cooking pressure, reduce to low flame and cook for 2-3 minutes. Put off the flame, allow cooker to cool and open, add Garam masala and cover the lid, transfer into serving bowl after 2-3 minutes.
Tadaka:
Take a fry pan, put remaining ghee, put cumin seed, when it crackle put off the stove; add chili powder and pour on the dal in serving bowl.
One important suggestion; don't mix tadka completely with dal, garnish with finely chopped coriander leaves. 'Sabut Mung tadka (Whole green gram fry)' is ready to be served.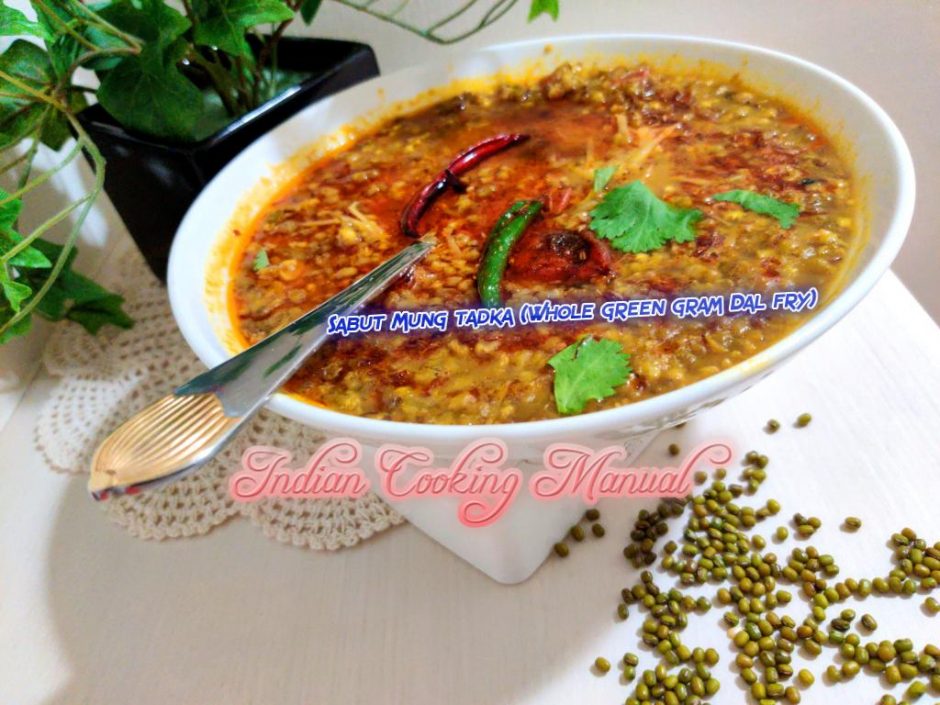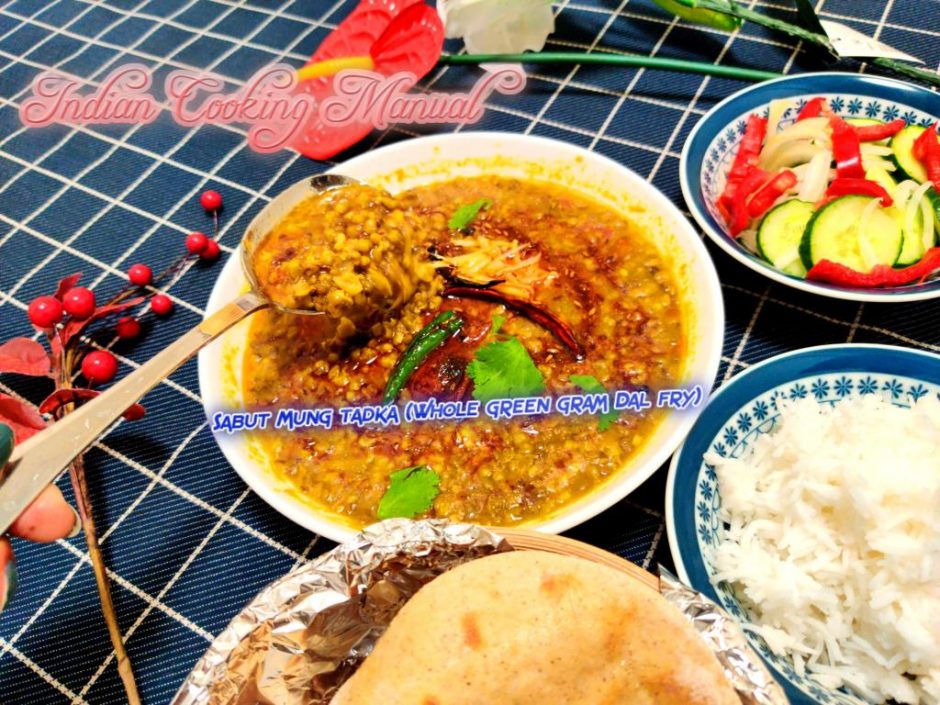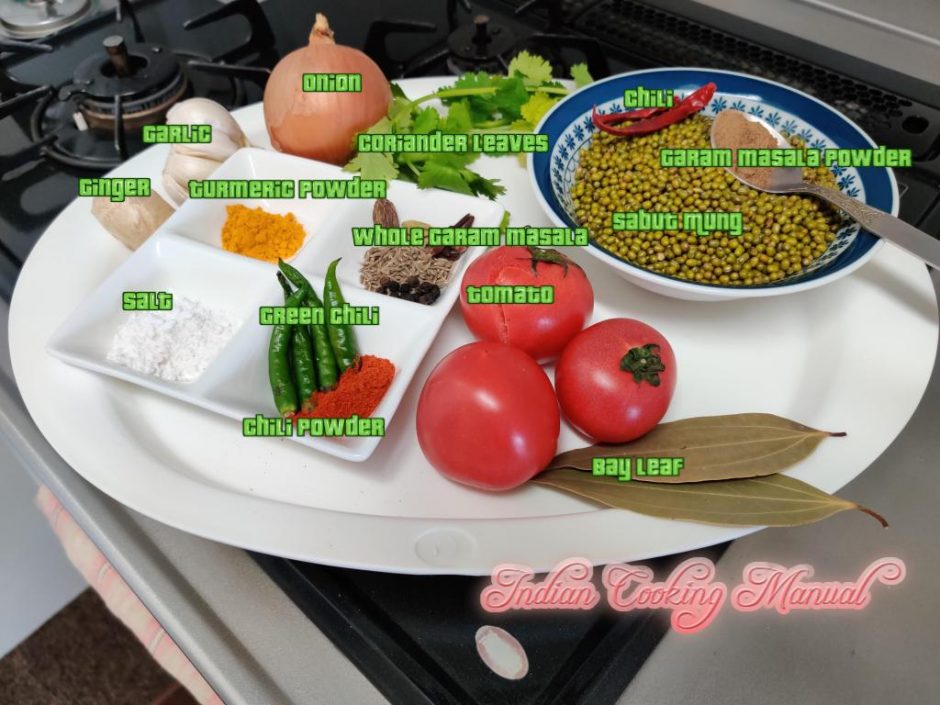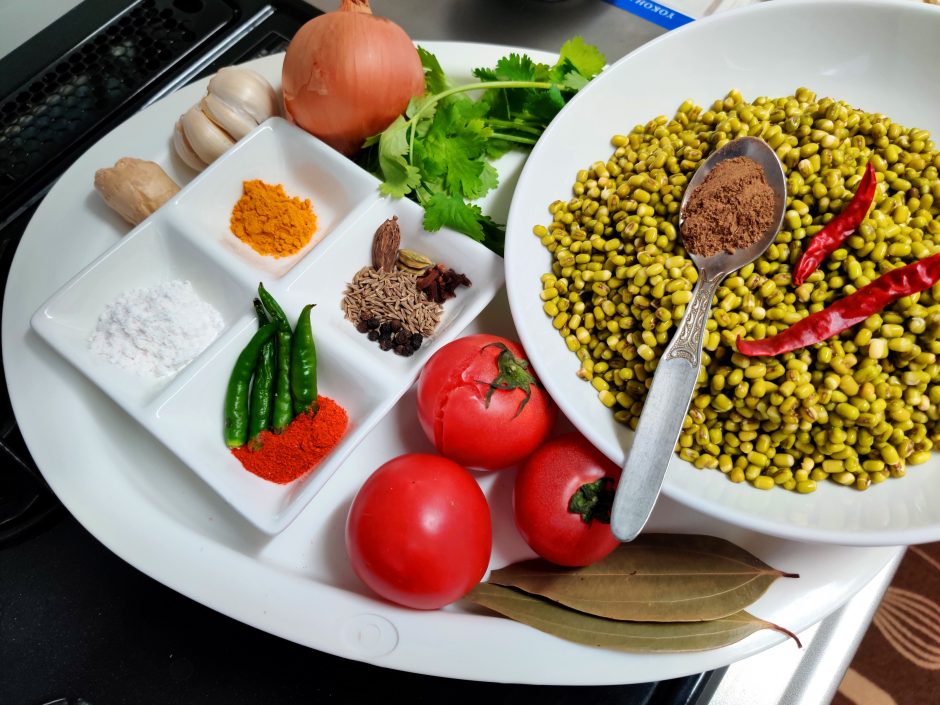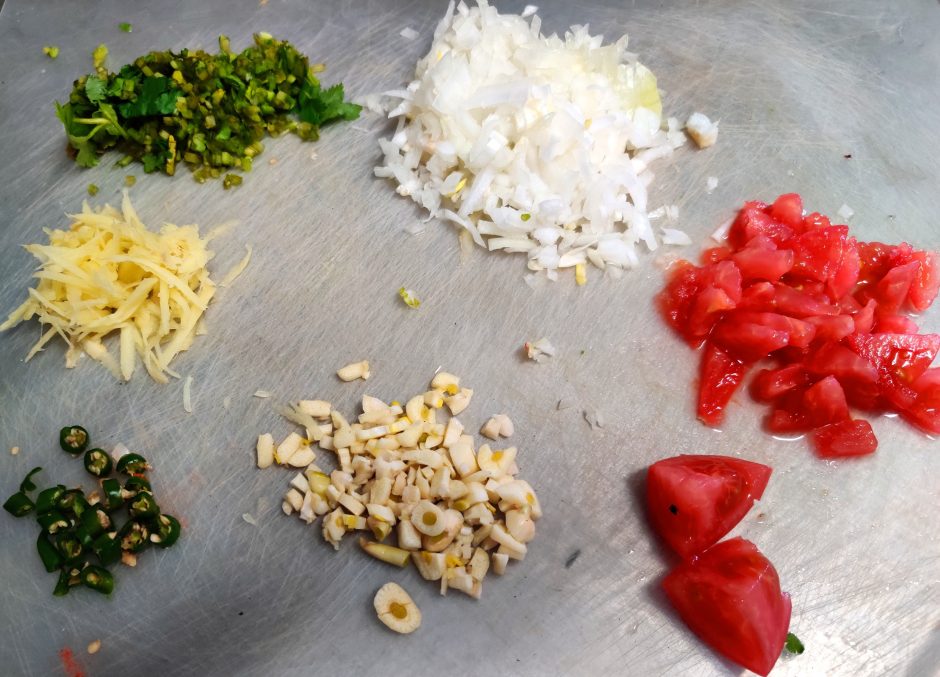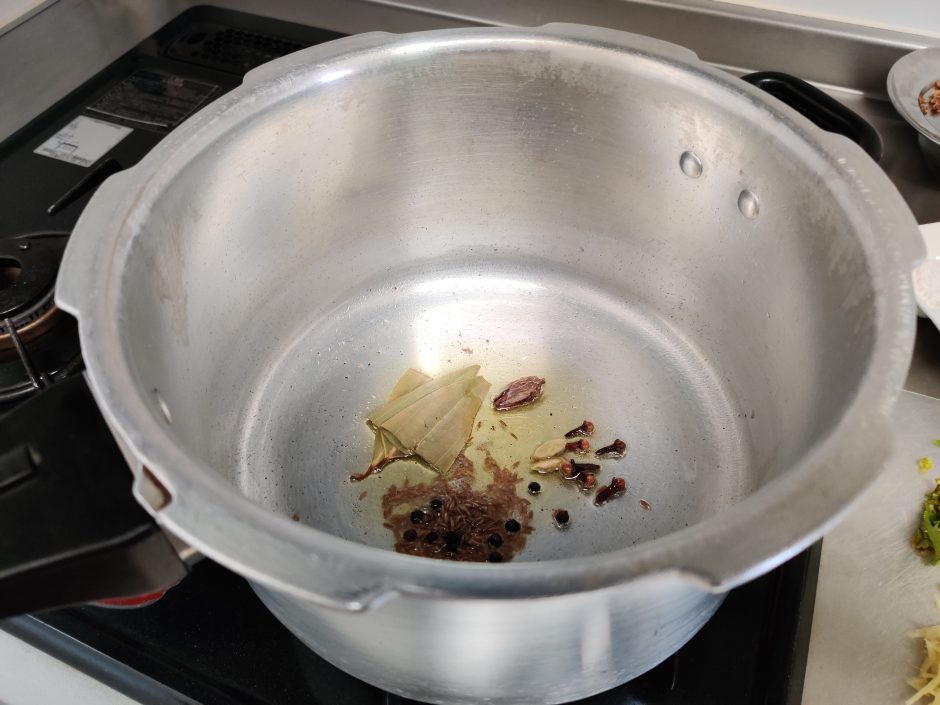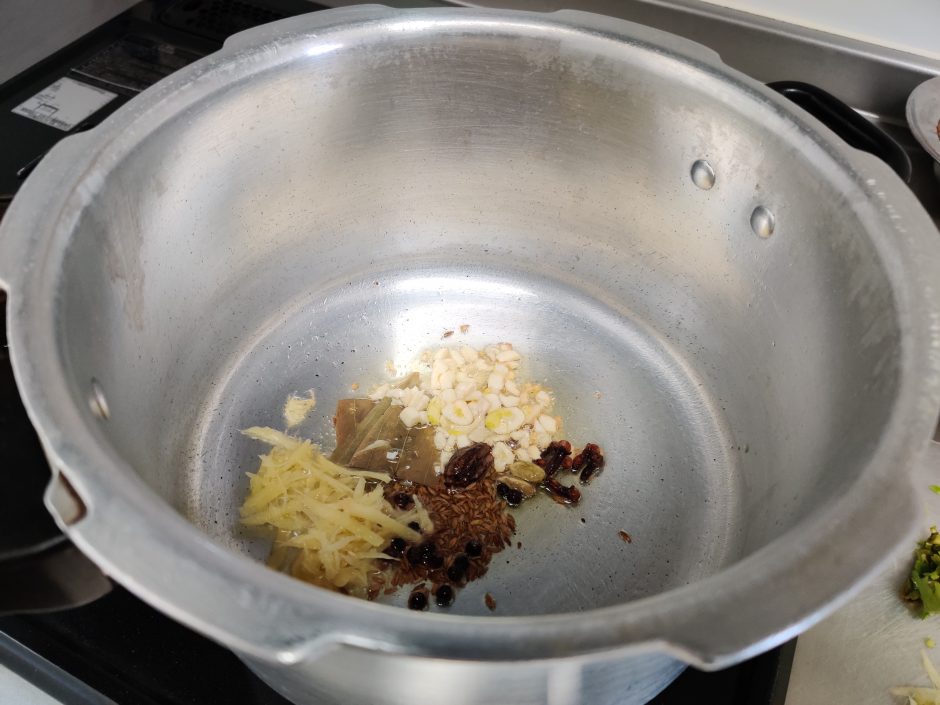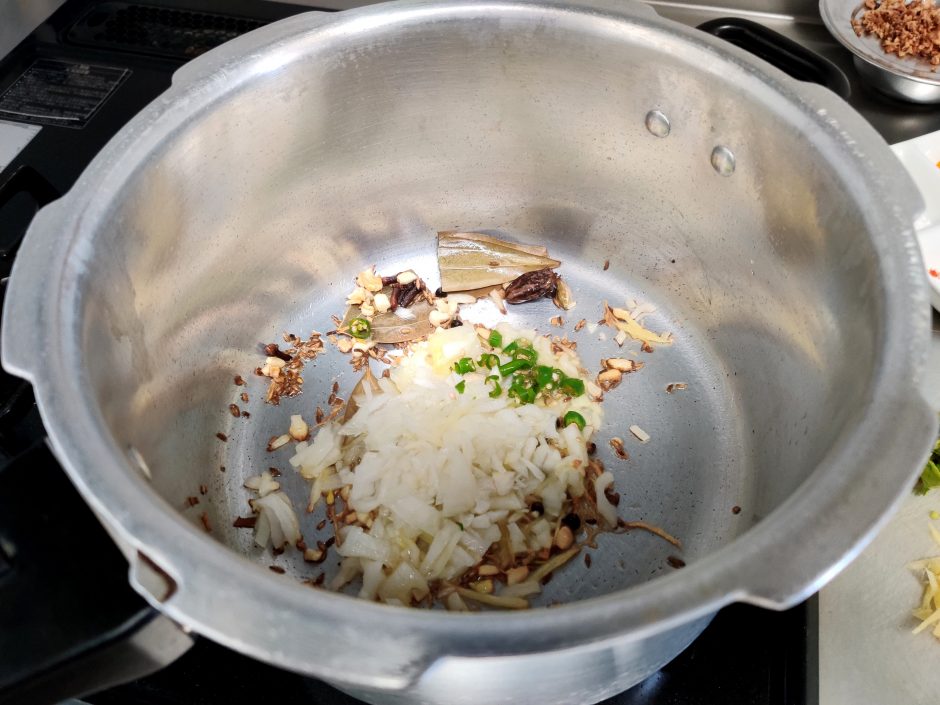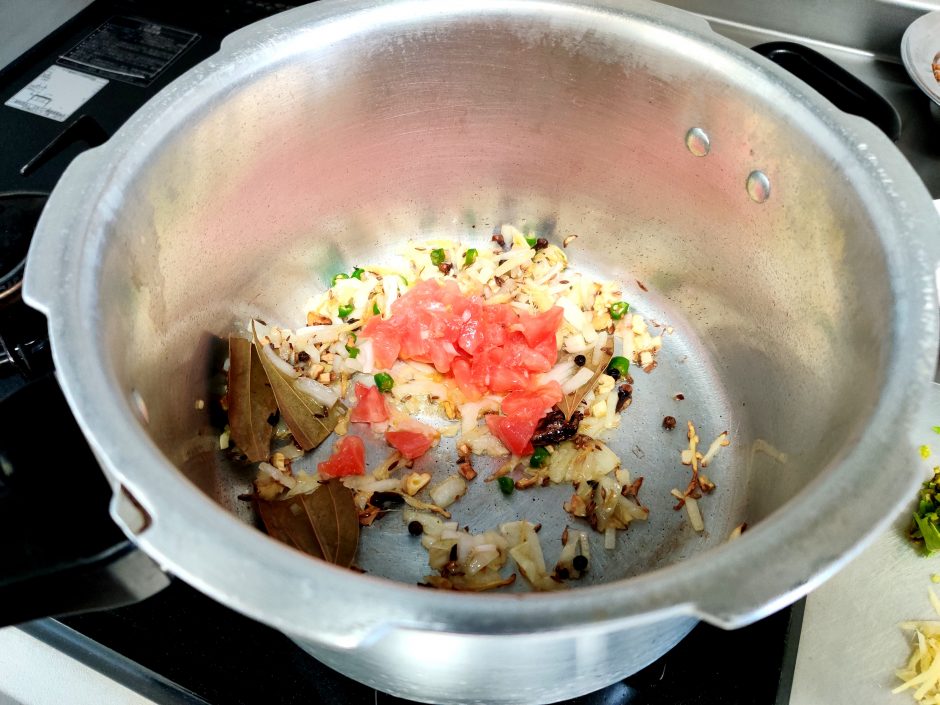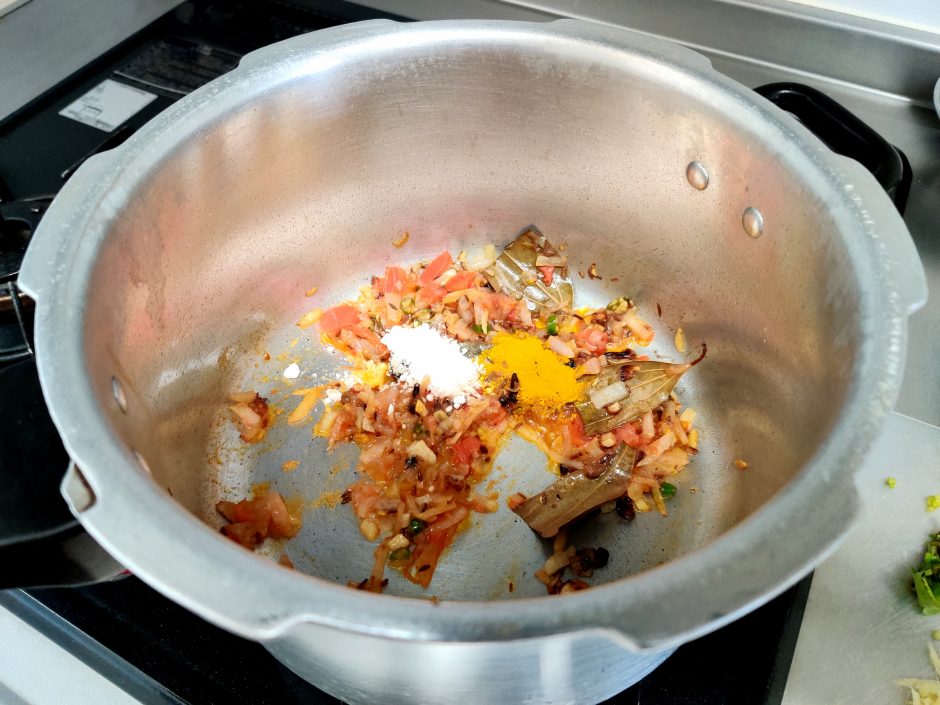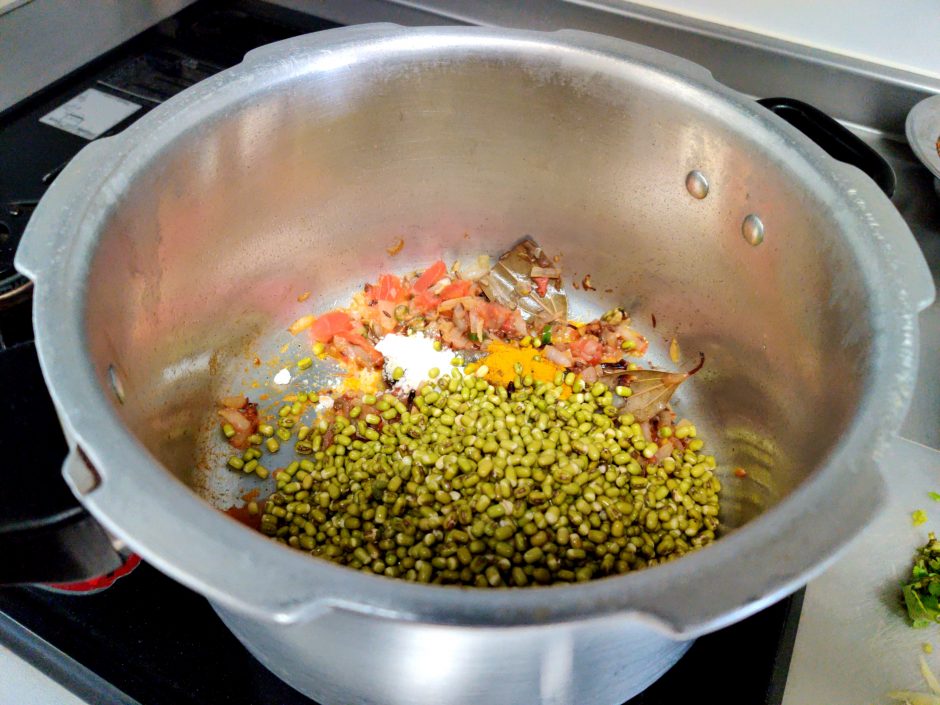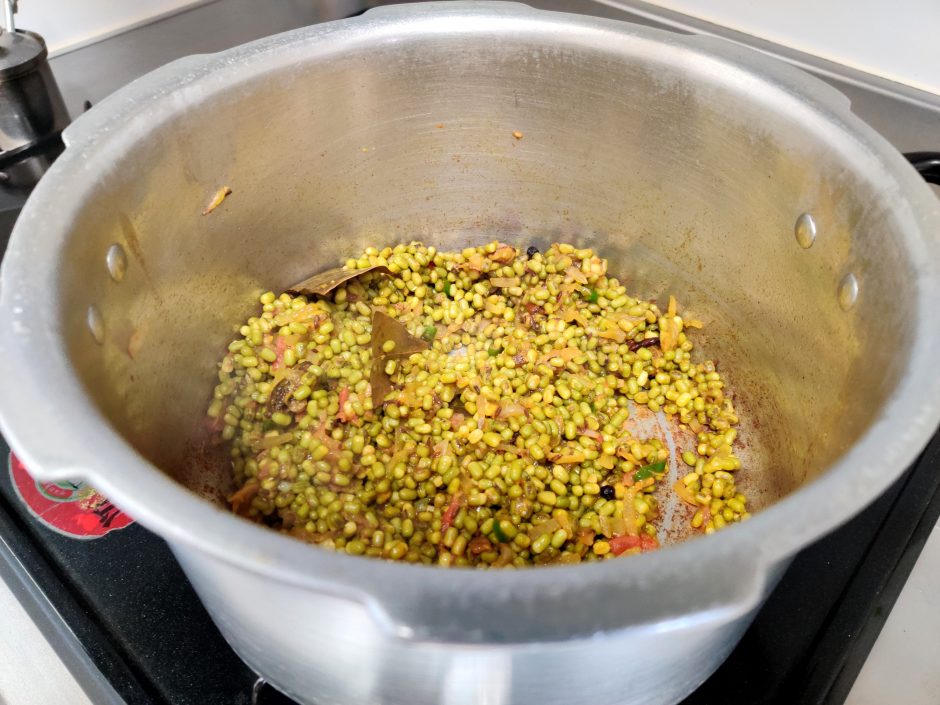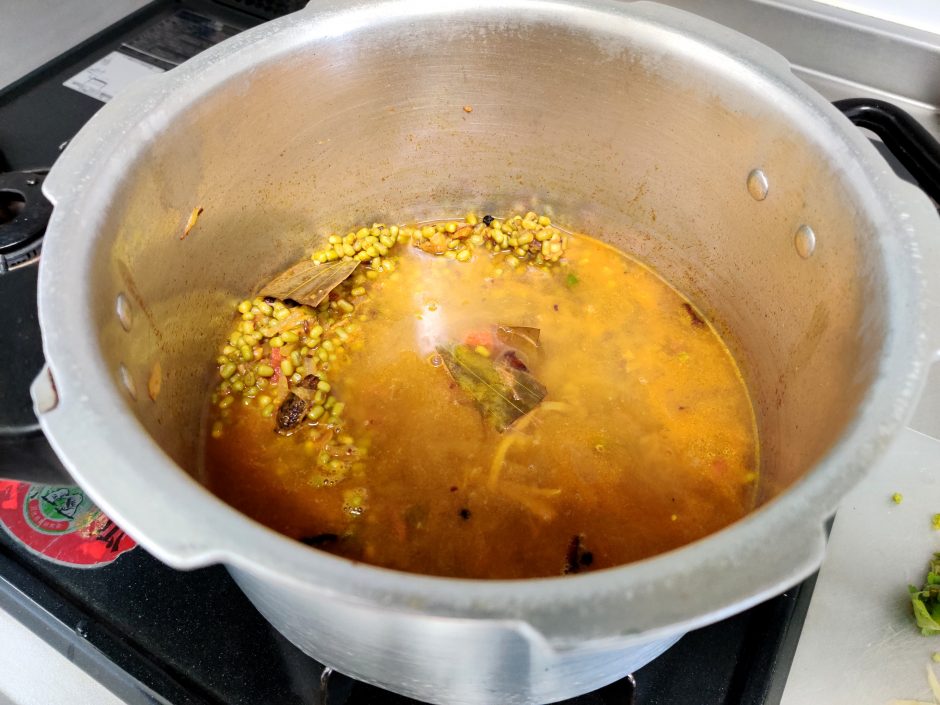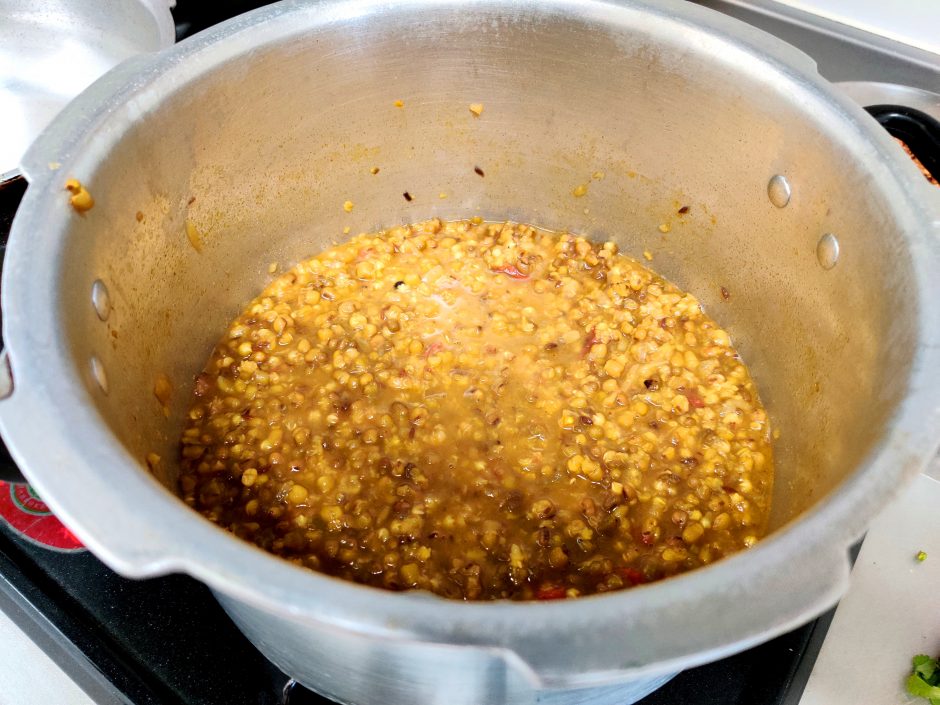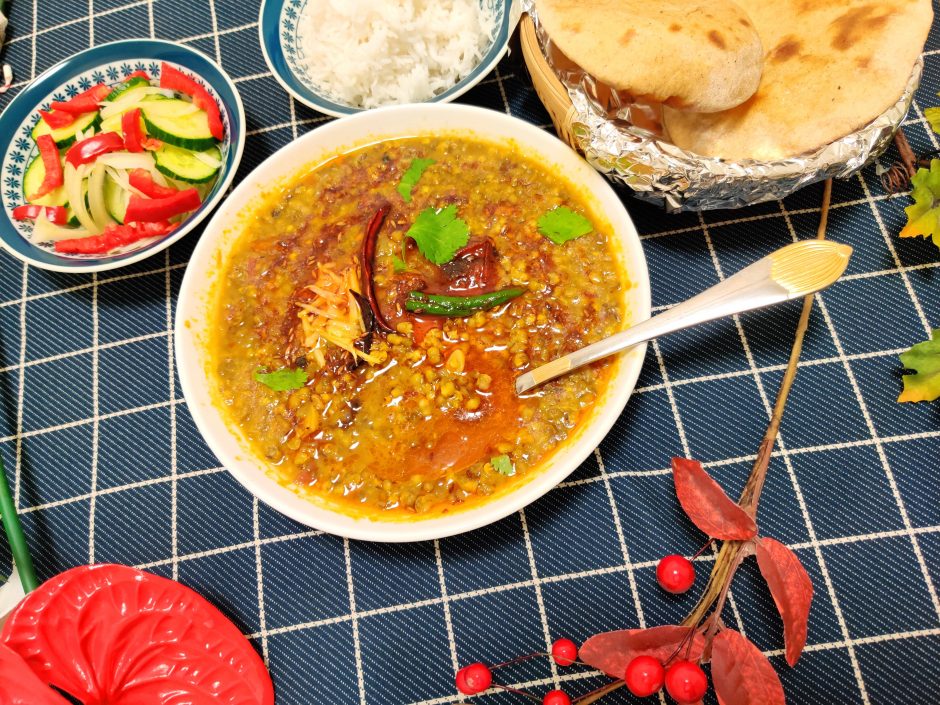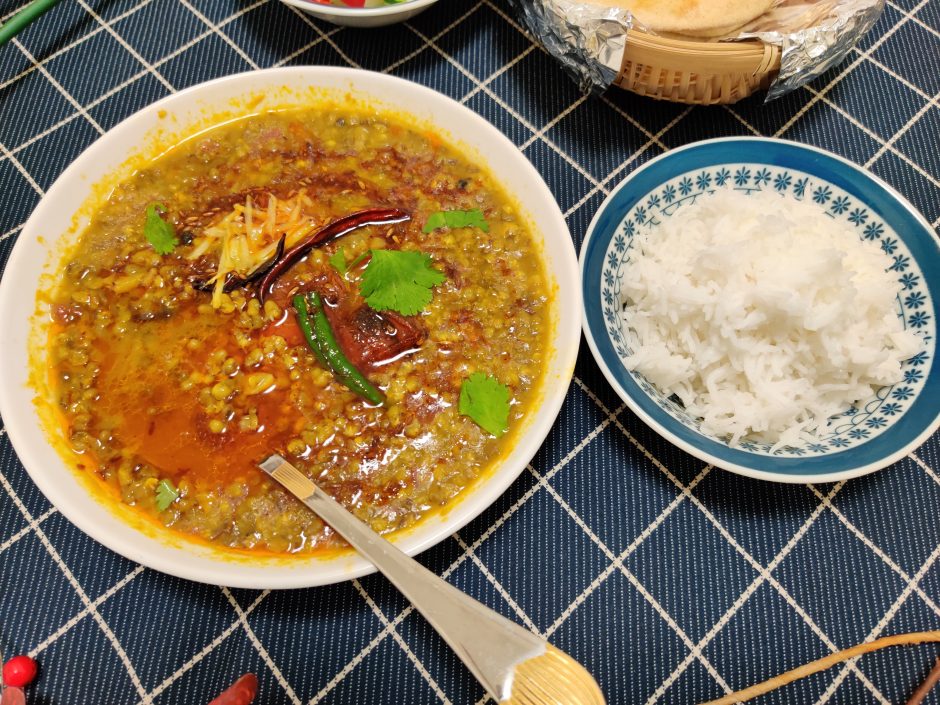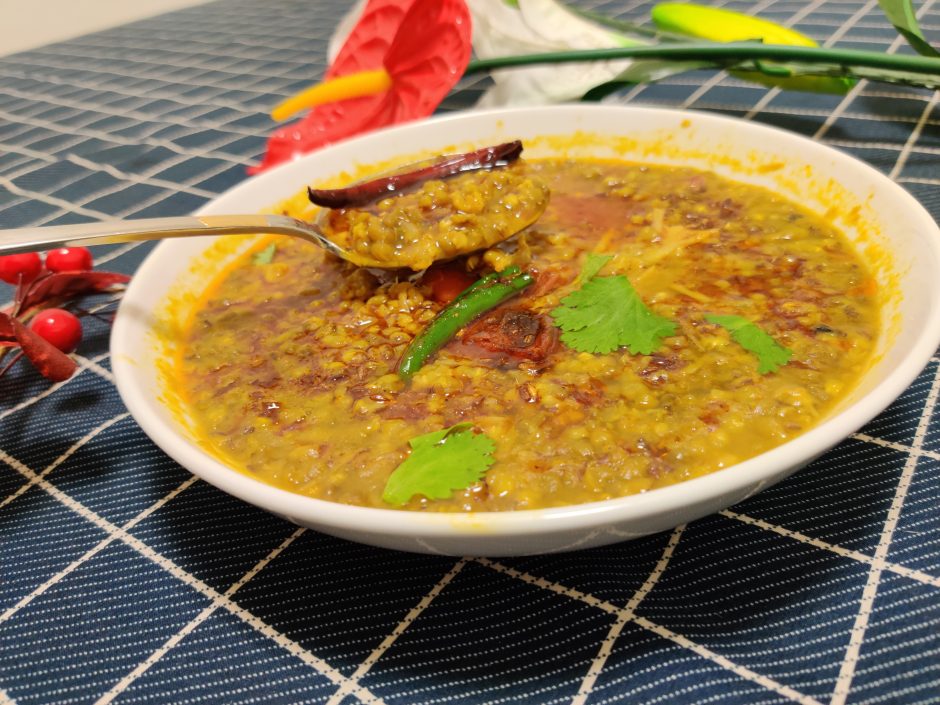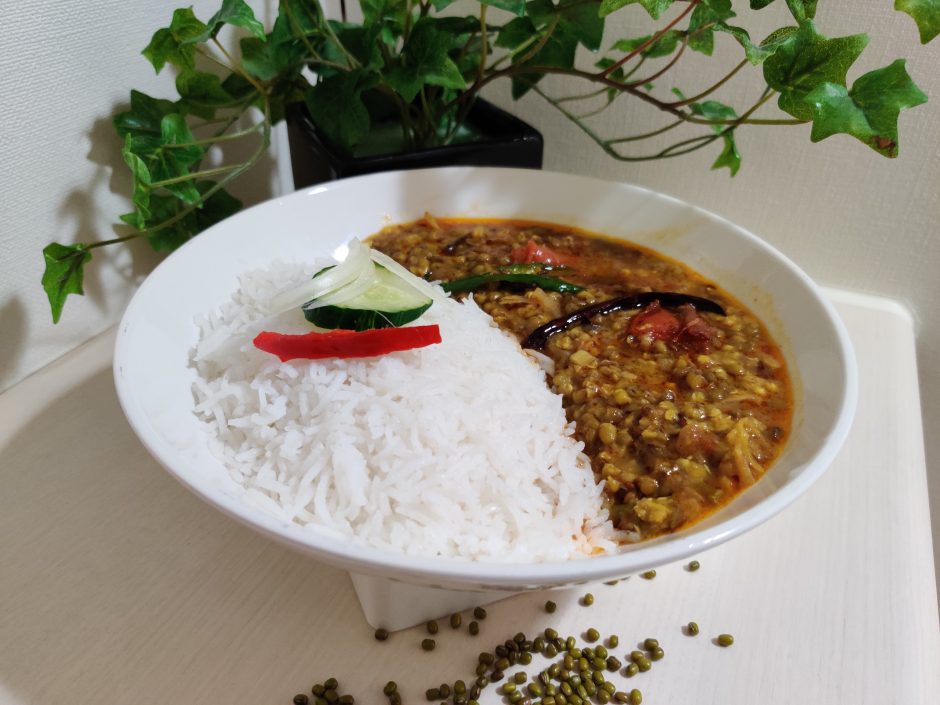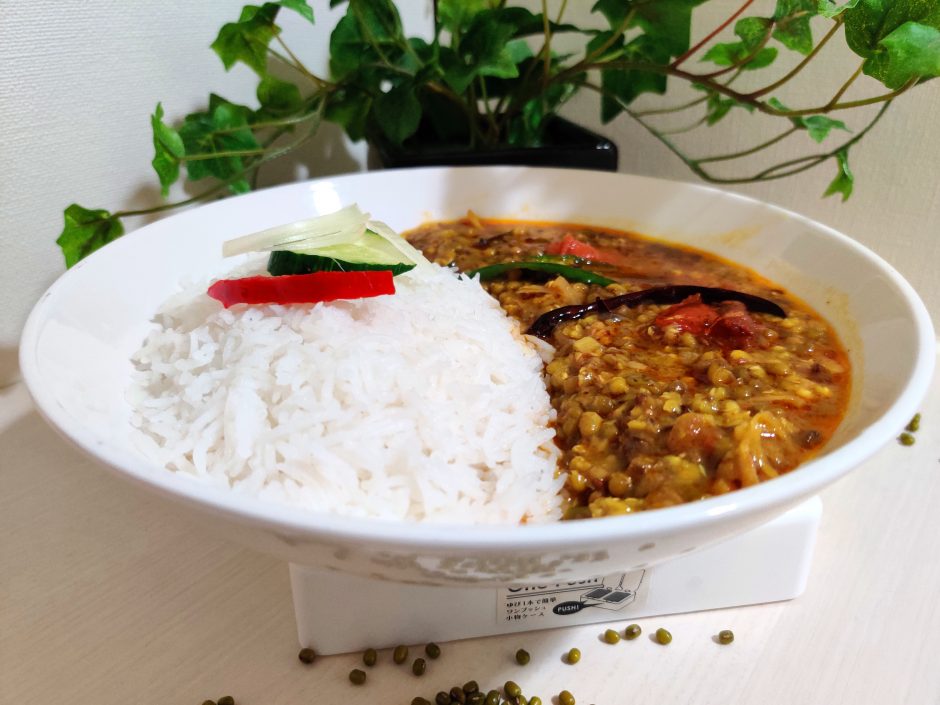 Sabut Mung tadka (Whole green gram Dal fry) by Nag Ratna Sahu is licensed under a Creative Commons Attribution-NonCommercial-ShareAlike 4.0 International License.