Servings: 4
Soaking time: 6 hours.
Preparation time: 10 minutes.
Frying time: 10 minutes.
Cooking time: 15 minutes.
Total time: 35 minutes.
Ghughani is a common and adorable breakfast in my parent house; eaten with Paratha, Kachori, roasted or fried poha (flatten rice); my mother used to cook almost every day in the breakfast, but now I used to cook once in a week. The recipe I uploaded here is just the way my mother used to cook with same spices.
Indian states of Bihar, west Bengal (Kolkata), Jharkhand, Utter Pradesh, Odisha, Assam and Tripura; served with puffed rice (Kurmura) paired with onion Pakoda (fritters) or lentil fritters (Kachari/ Bhajia) as evening snacks . The recipe is mostly used to serve to break dawn to dusk fast at the month of Ramadan, not only in India and Pakistan but whole Indian continent.
Ingredients:
Black Chick Peas (kala chana): 300 gm.
Onion: 1 no. (Medium)
Tomato: 1 no. (Small, optional)
Green chili: 2 no.
Ginger: 2"piece
Garlic: 3-4 clove
Cumin: 1 teaspoon
Whole red chili: 1 no.
Dry masala: (red chili: 2-3 no, coriander: 1 tablespoon, cumin: 1 teaspoon and Black pepper: 8-10 no.)
Salt: 1 ½ teaspoon
Turmeric powder: ½ teaspoon
Cooking oil/ Mustard oil: 4-5 tablespoon
Garam masala powder: ½ teaspoon
Lemon: 1 no.
Green coriander: 1 table spoon
Preparation:
Soak chick peas minimum 6 hours or overnight, keep aside.
Chop onion into small pieces, keep aside.
Dry roast all dry masala on lower flame, cool and grind to powder, keep aside.
Grind ginger, garlic and green chili to prepare wet masala paste, keep aside.
Method:
Take wok (kadhahi) heat oil; add cumin and red chili sputter it for few seconds; add chopped onion, stir fry on high flame till onion turns translucent(about 2 minutes).
Add turmeric powder and prepared dry masala powder, tomato and wet masala paste; continue to fry on medium flame until oil separates from the masala( about 3 minutes).
Add soaked chick peas stir fry for couple of minutes at medium flame; add two cups of water, bring to boil, reduce to low flame and cook until done (10-12 minutes) with lid on.
Add salt; continue to cook on high flame till it gets semi dry in consistency (about 2 minutes), Put off the flame.
Add lemon juice and Garam masala powder; "Ghughani dry (Black Chick Peas/Bengal Gram) dry" is ready to be served with chopped raw onion.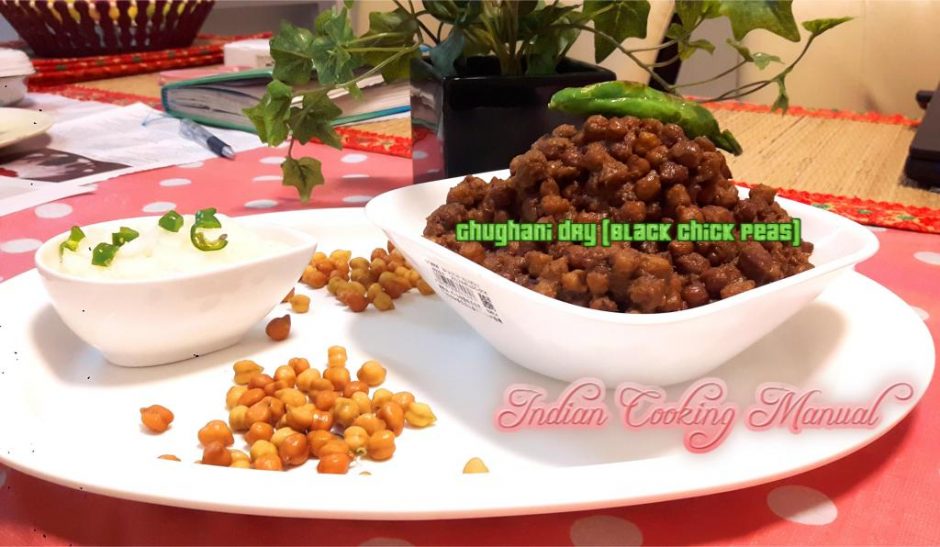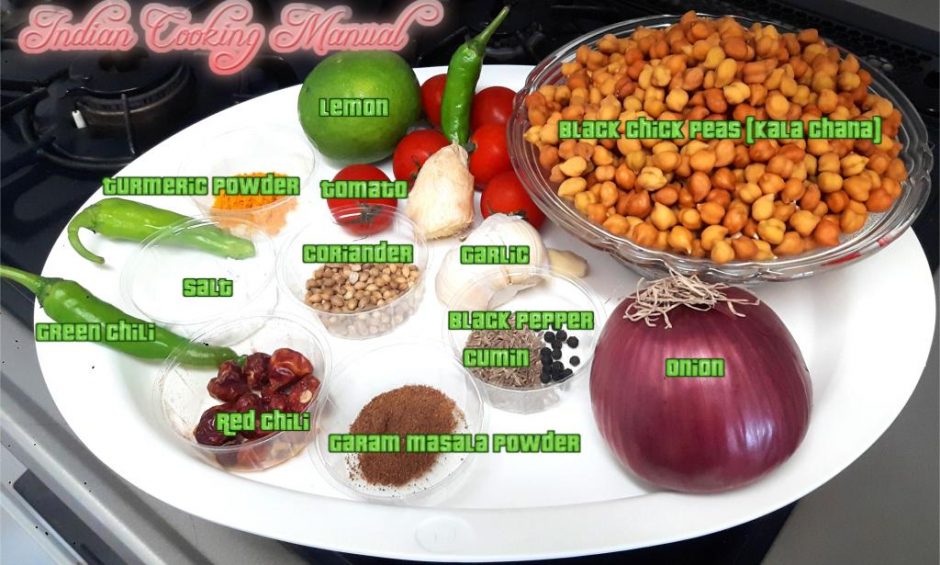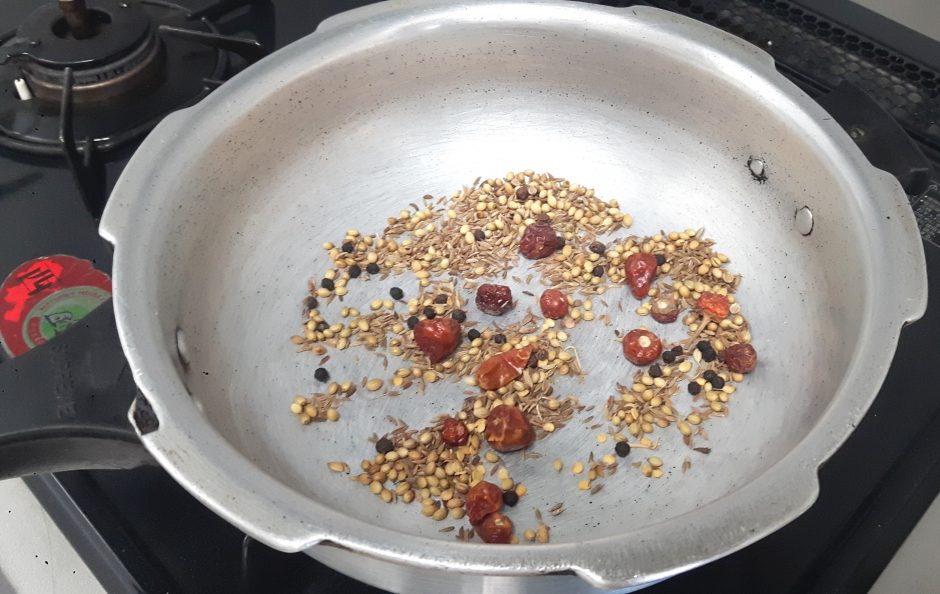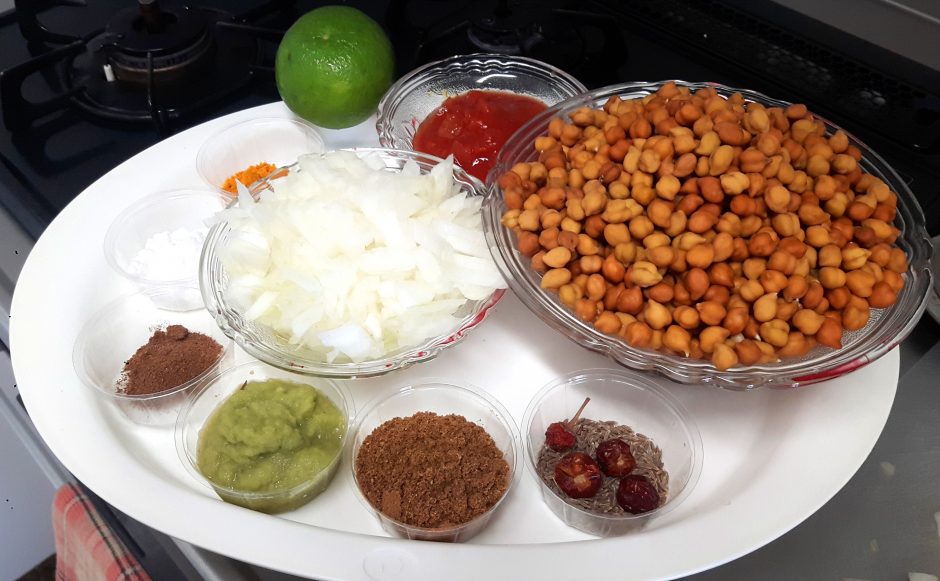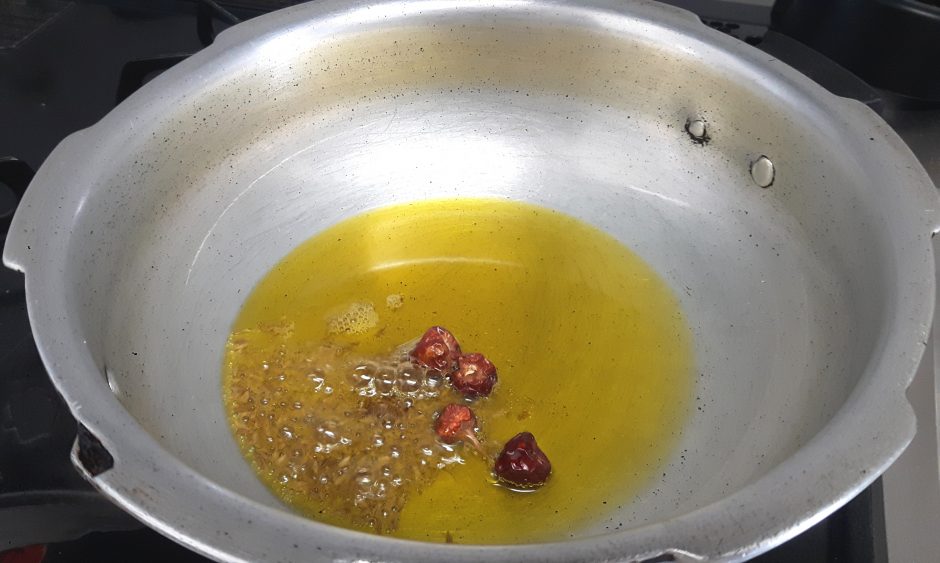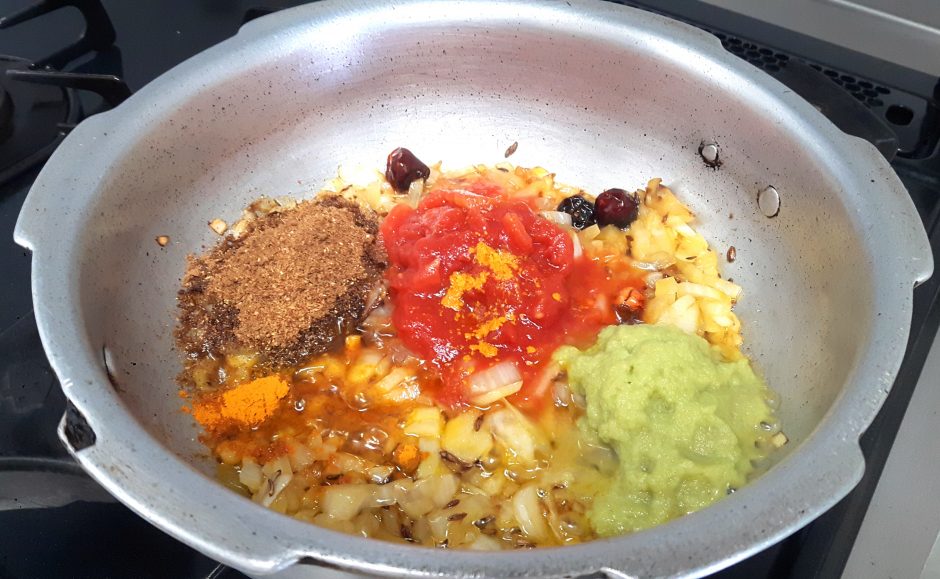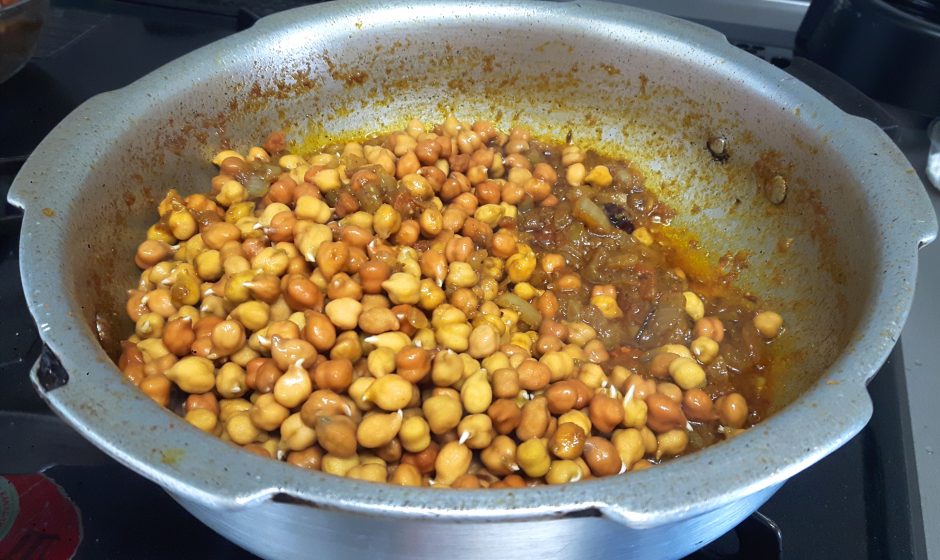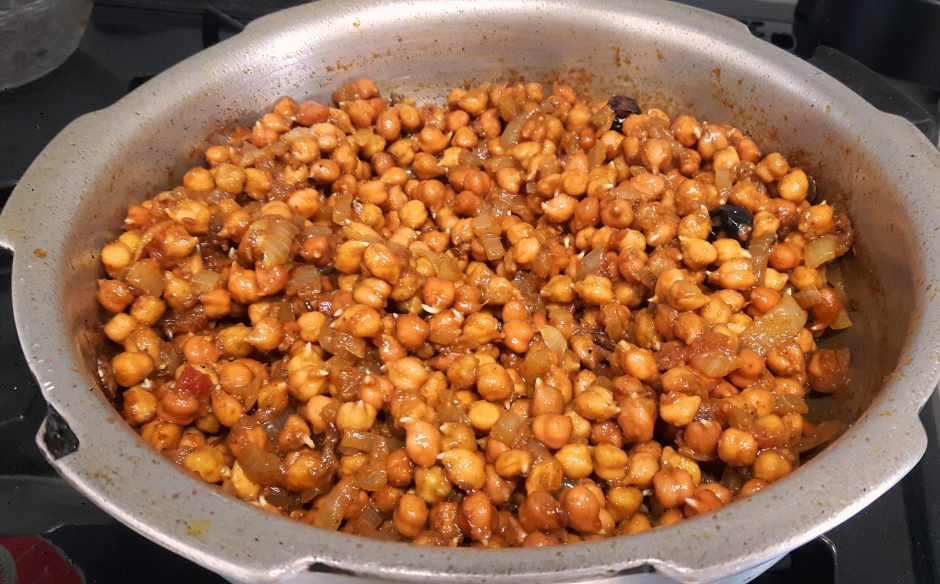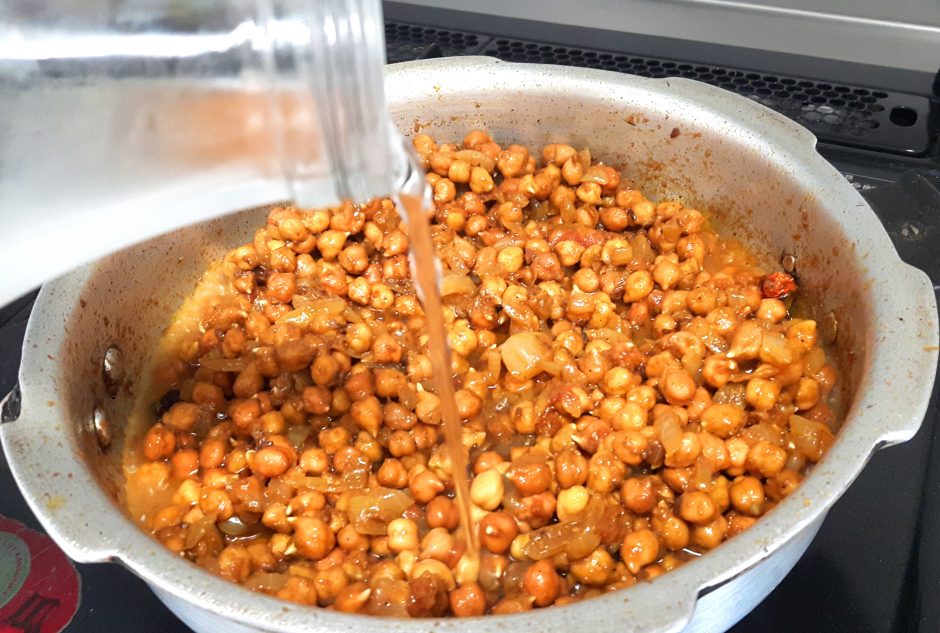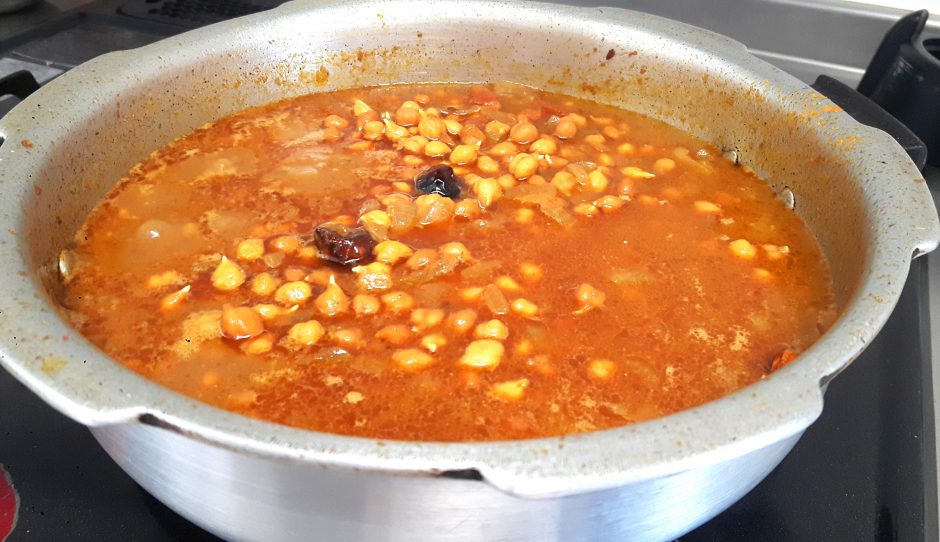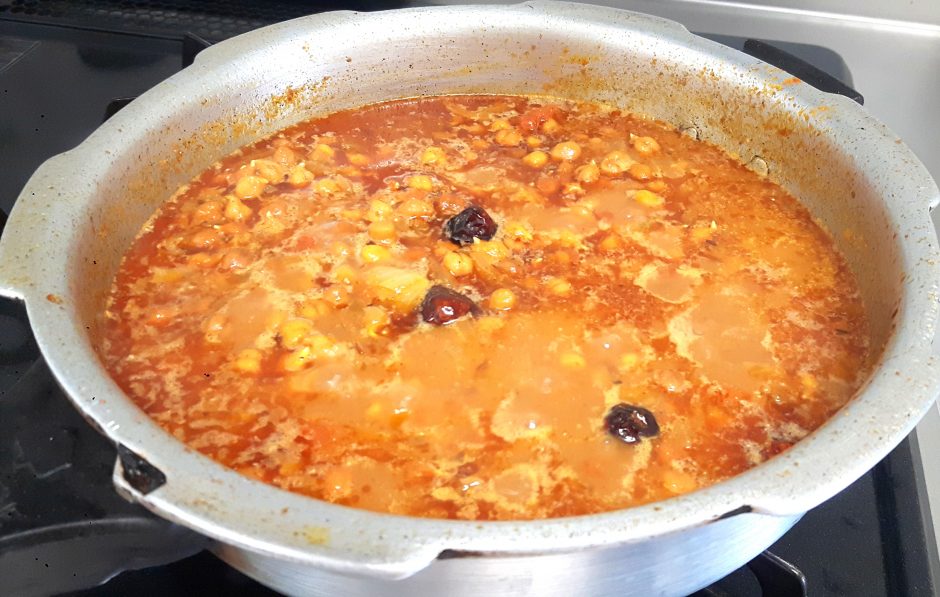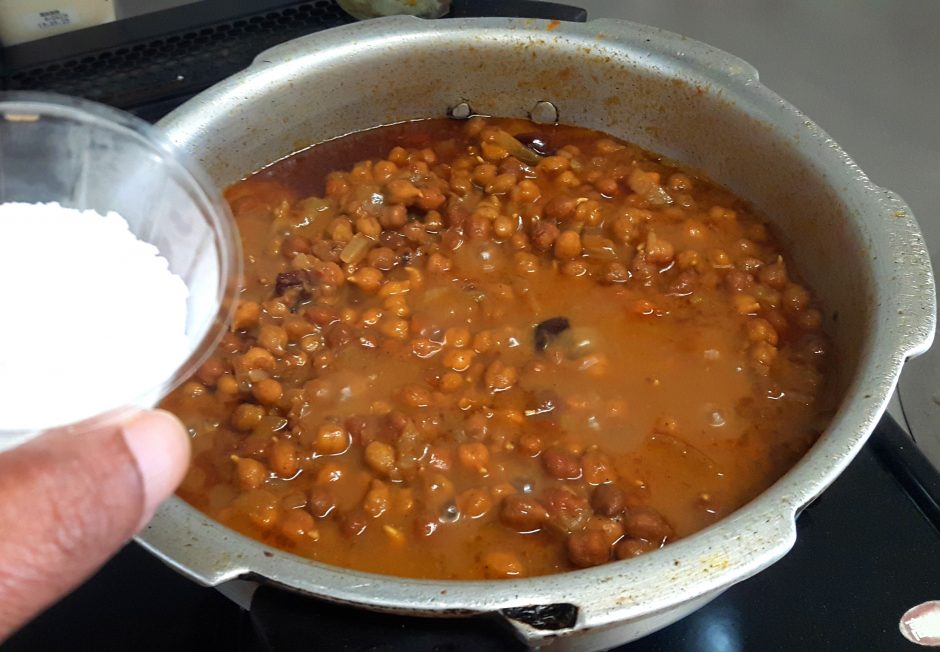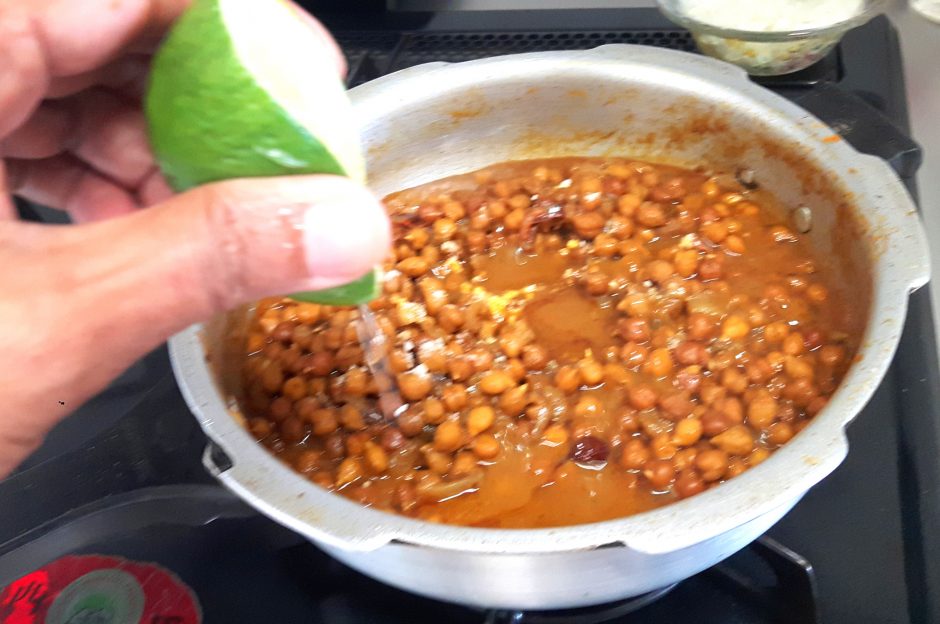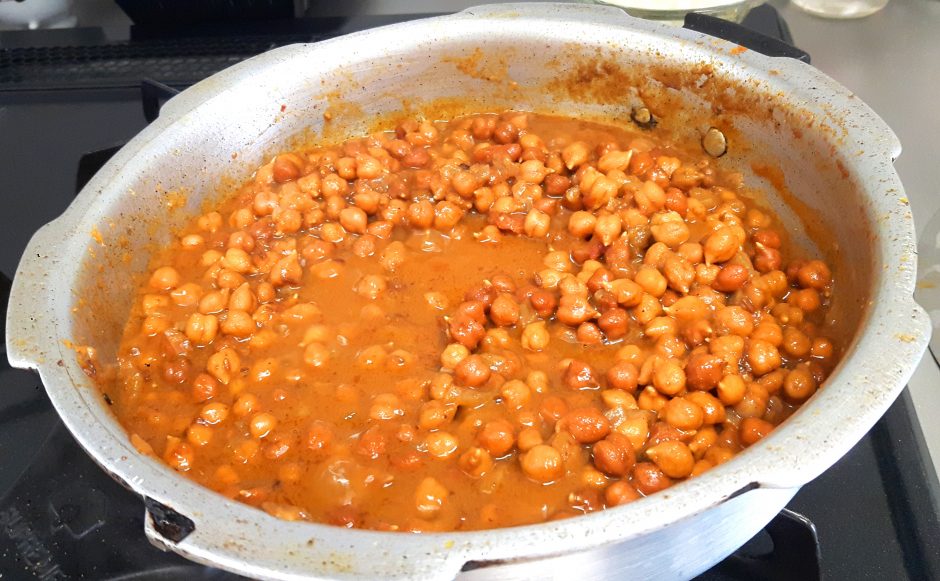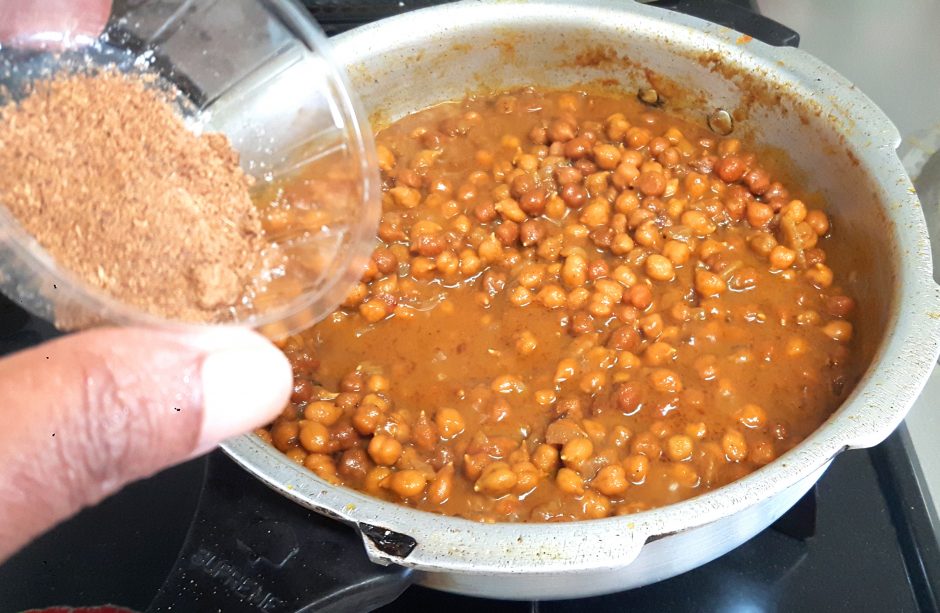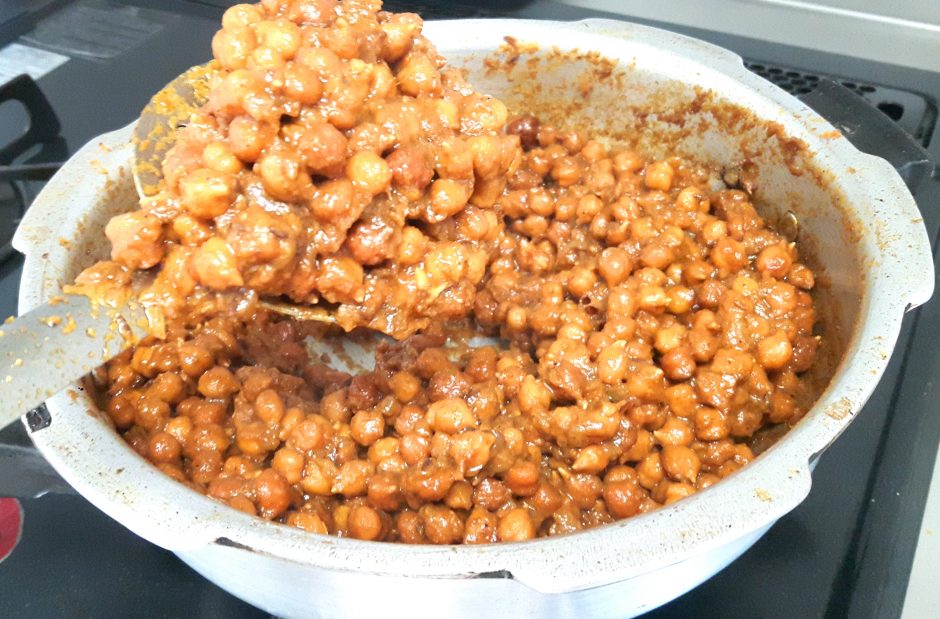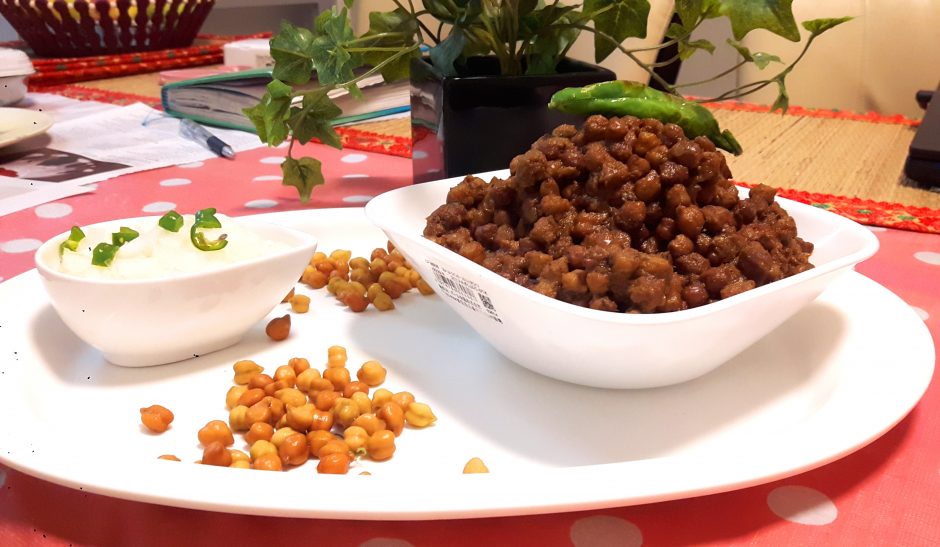 Ghughani dry (Black Chick Peas/Bengal Gram) dry by Nag Ratna Sahu is licensed under a Creative Commons Attribution-NonCommercial-ShareAlike 4.0 International License.