Servings: 4
Preparation time: 5 minutes.
Cooking time:15 minutes.
Total time: 20 minutes.
There are many variations of "Aaloo – Baigan (potato-egg plant)" combination dishes cooked in Indian houses for meal; the everyday meals are very simple, yet delicious in comparison to restaurant.
Today I am sharing not only one of my favorite, but family recipes of many Indian homes, if you are going to cook eggplant must try this recipe; easy and quick. This recipe, paratha and raita is an excellent combination.
The recipe with paratha can be packed for lunch boxes.
Ingredients:
Baigan (egg plant): 300 gm
Potato: 150 gm
Onion: 75 gm
Cherry tomato: 6 no.
Mint leaves: 10-12 no.
Mustard oil: 4 tablespoon
Cumin: 1 teaspoon
Chili powder: 1 teaspoon
Turmeric powder: ½ teaspoon
Coriander powder: 1 tablespoon
Salt: 1 tablespoon
Garam masala powder: ½ teaspoon
Preparation:
Chop potatoes and brinjals, into big pieces (~ 1 ½"pieces), keep this in a bowl filled with water otherwise it will turn dark brown due to high iron content. Keep aside.
Chop tomatoes into 4 pieces, keep aside.
Slice onion longitudinally, keep aside.
Method:
Take fry pan or wok, heat oil, let oil start to smoke, add cumin, and sputter for few seconds.
Add chopped onion; stir fry on high flame for couple of minutes or until onion gets translucent, add chopped potato, continue to fry on medium flame for couple of minutes, add brinjal, stir it and cook on low flame with lid on for about 4-5 minutes till it is 80% done (Stir occasionally to avoid burning).
Open the lid; add chili powder, turmeric powder, coriander powder and salt; stir and continue to cook on low flame for couple of minutes with lid on; add tomato, mint leaves, and Garam masala powder, cook for a minute on high flame. Put off the flame.
"Dry Aaloo – Baigan (potato-egg plant) with Sliced Onion" is ready to be served.
Transfer to serving bowl and sprinkle mint leaves. Serve hot with ghee smeared chapatti, Poori or rice.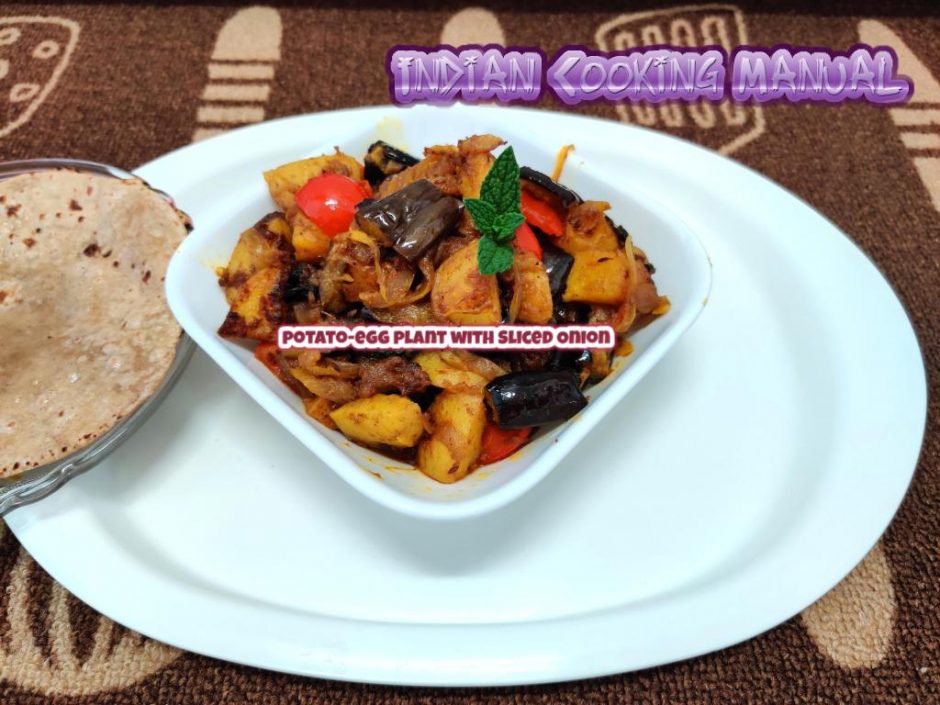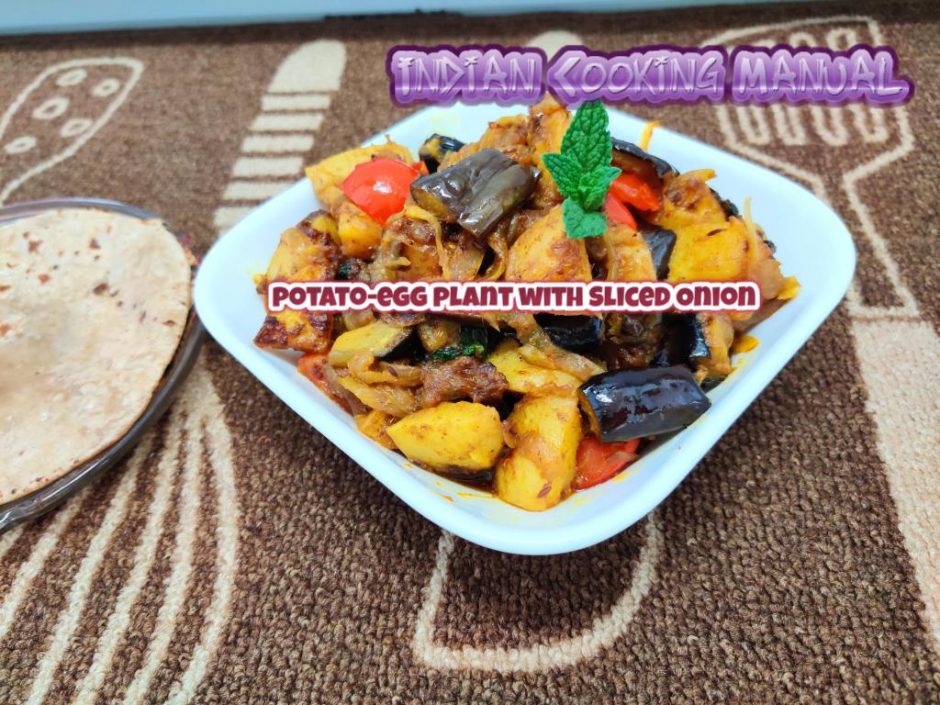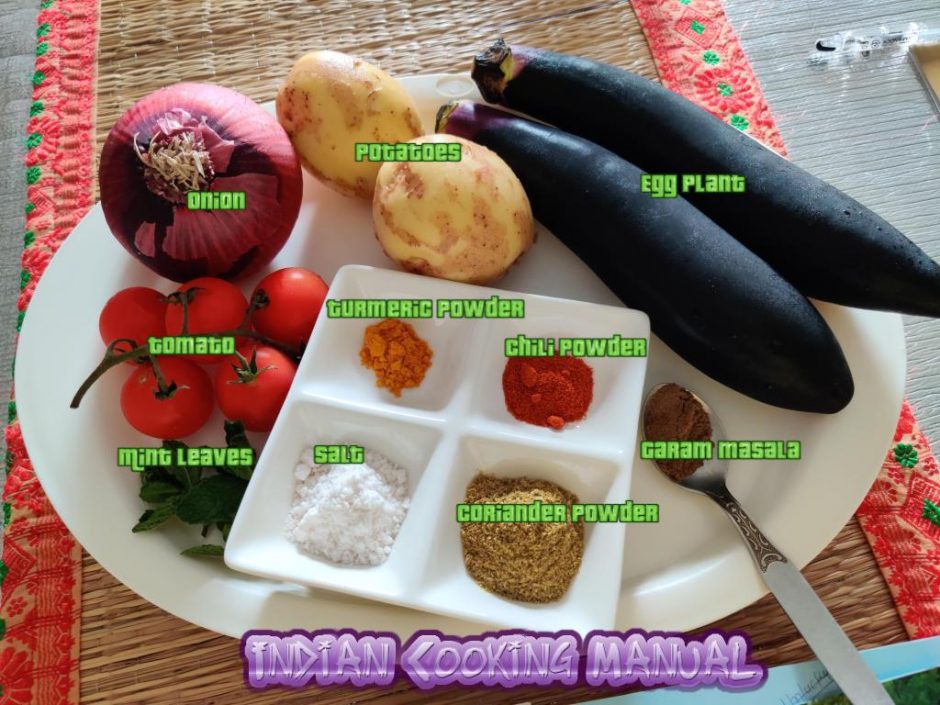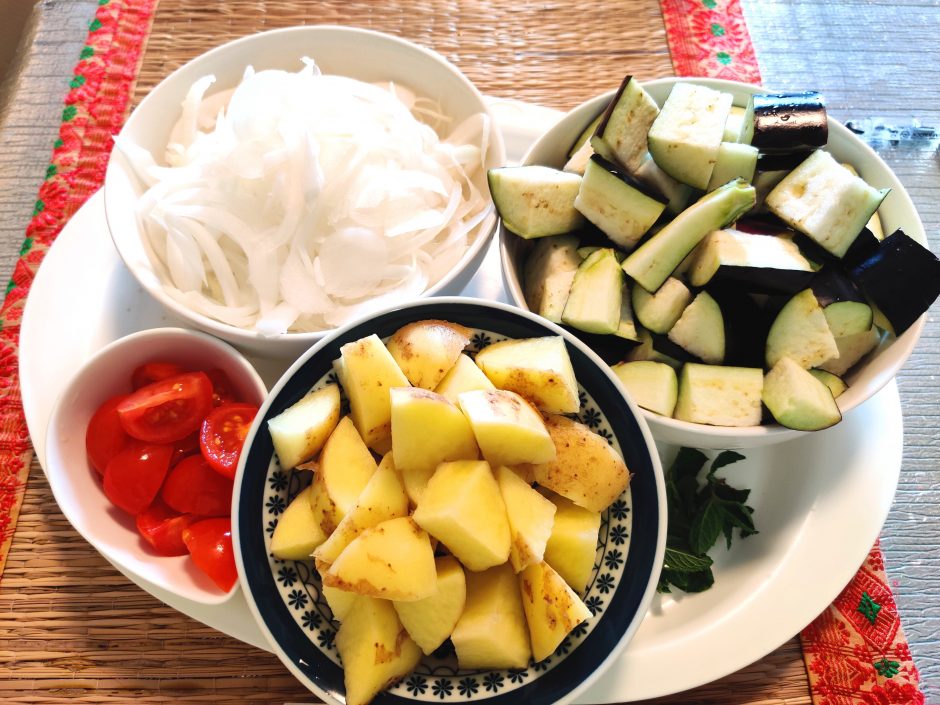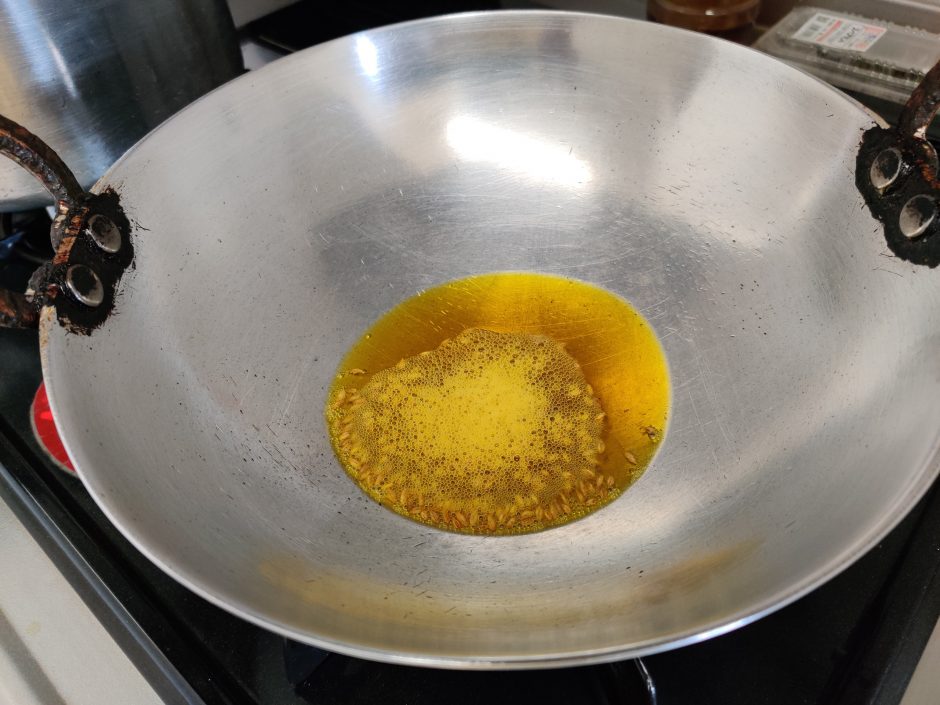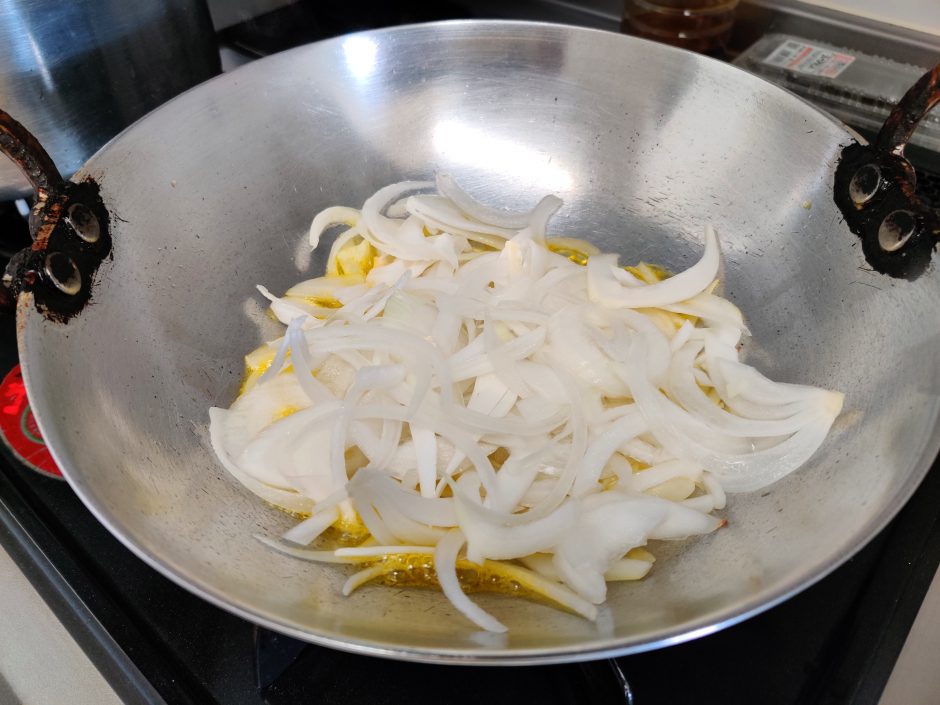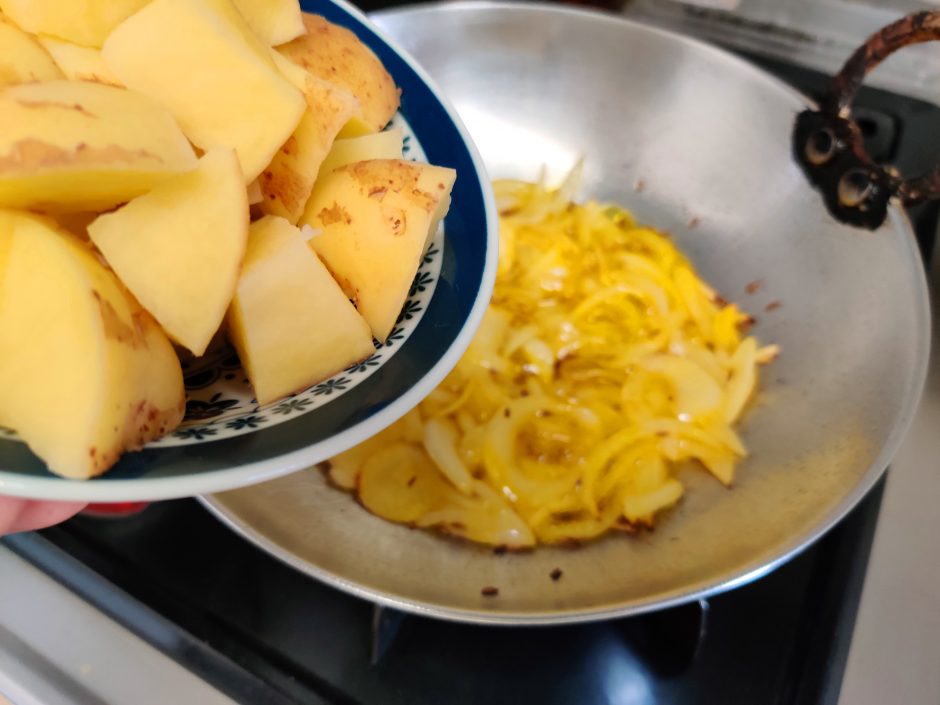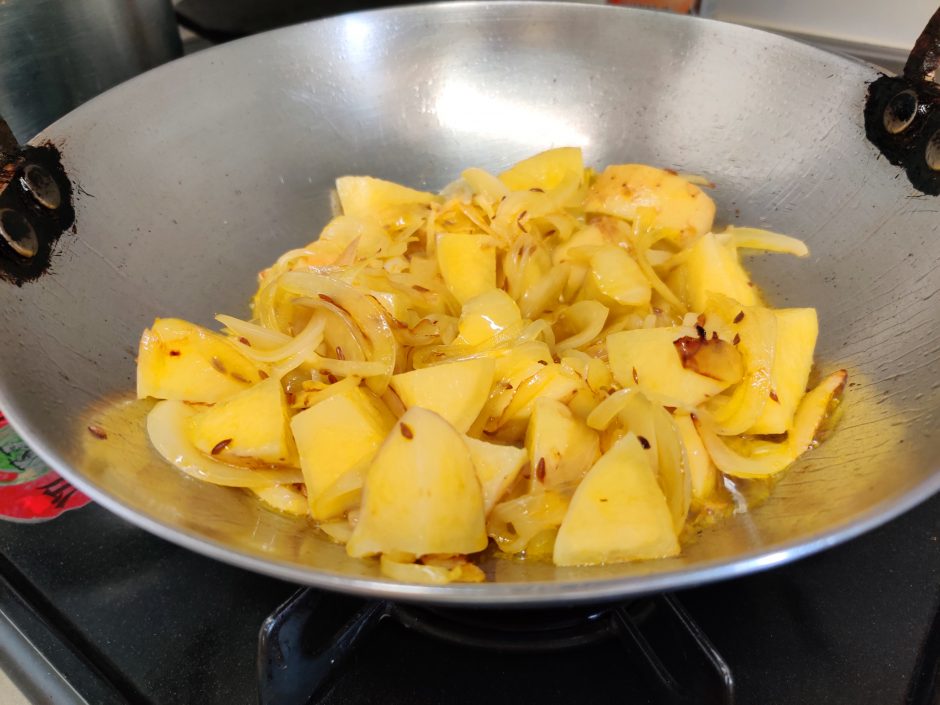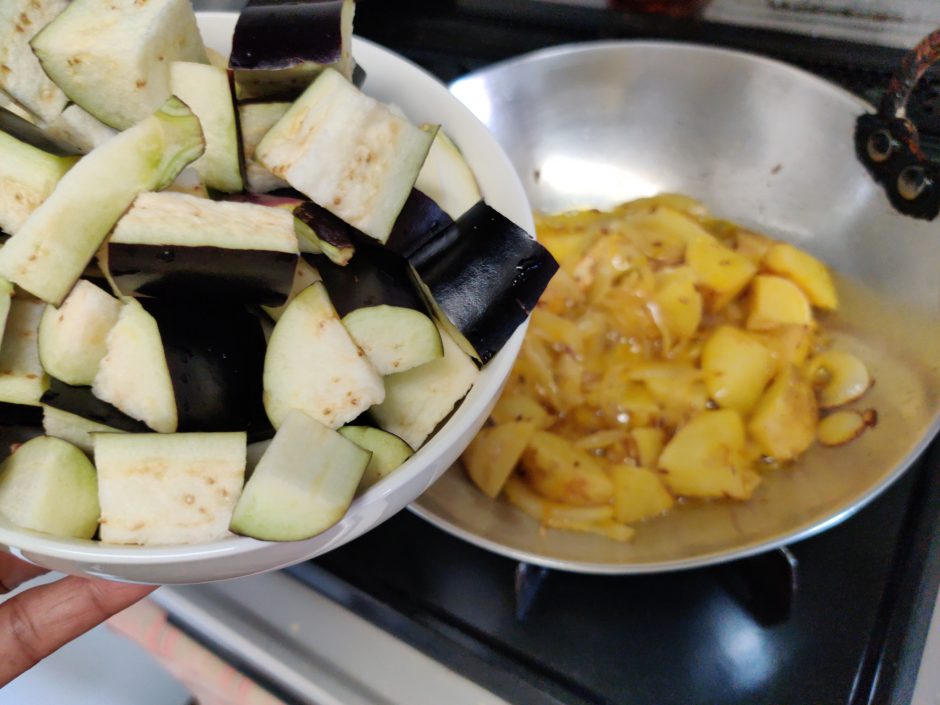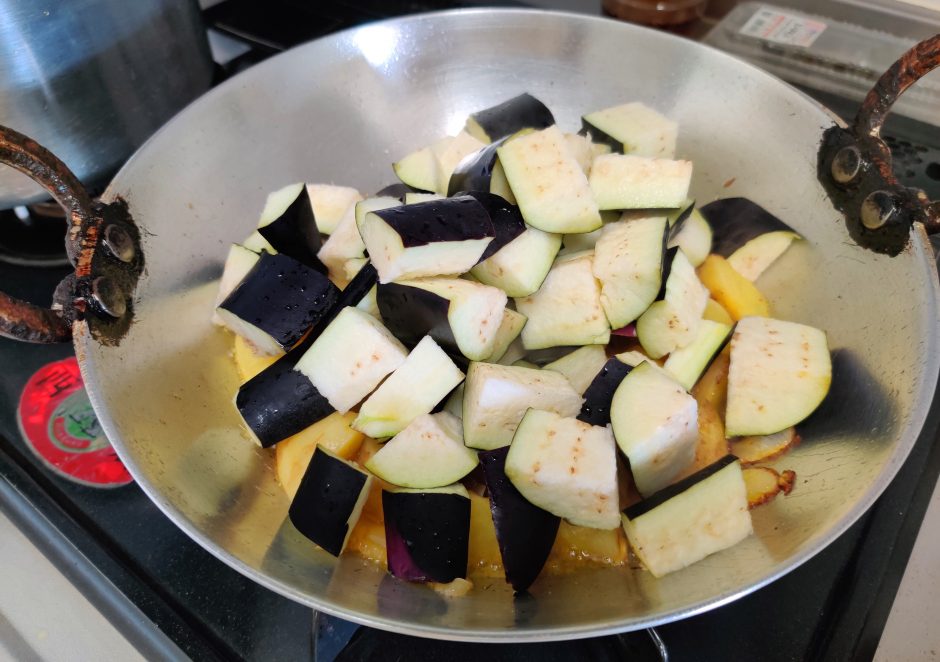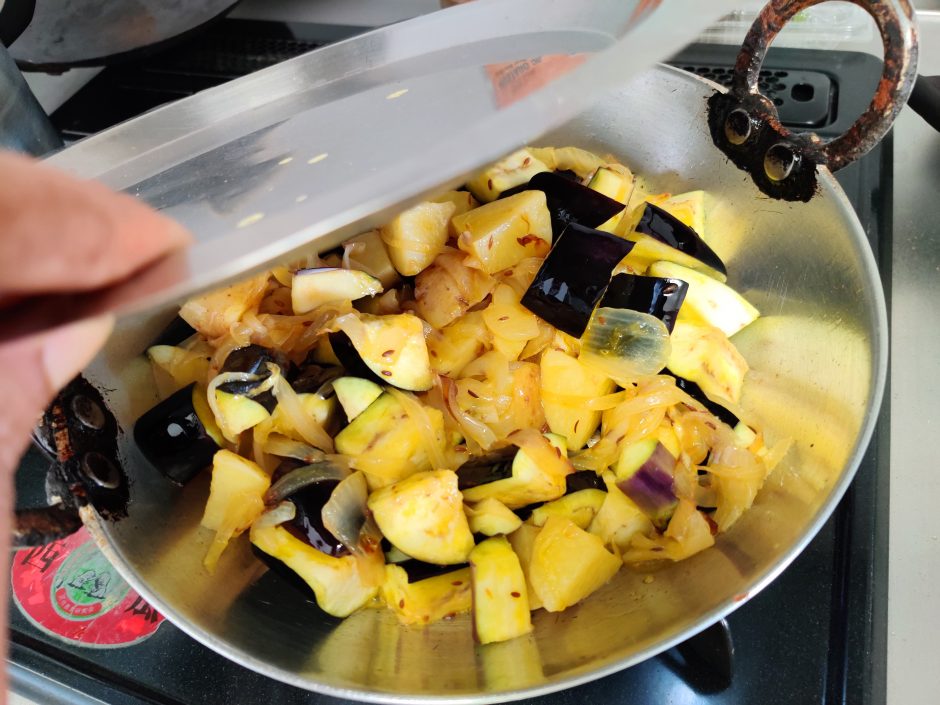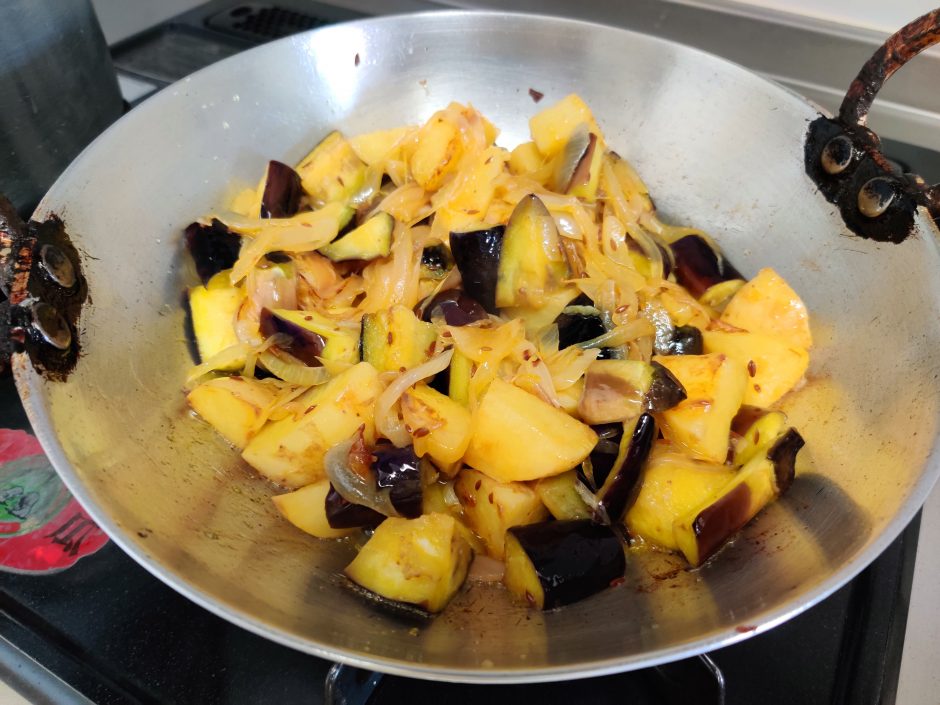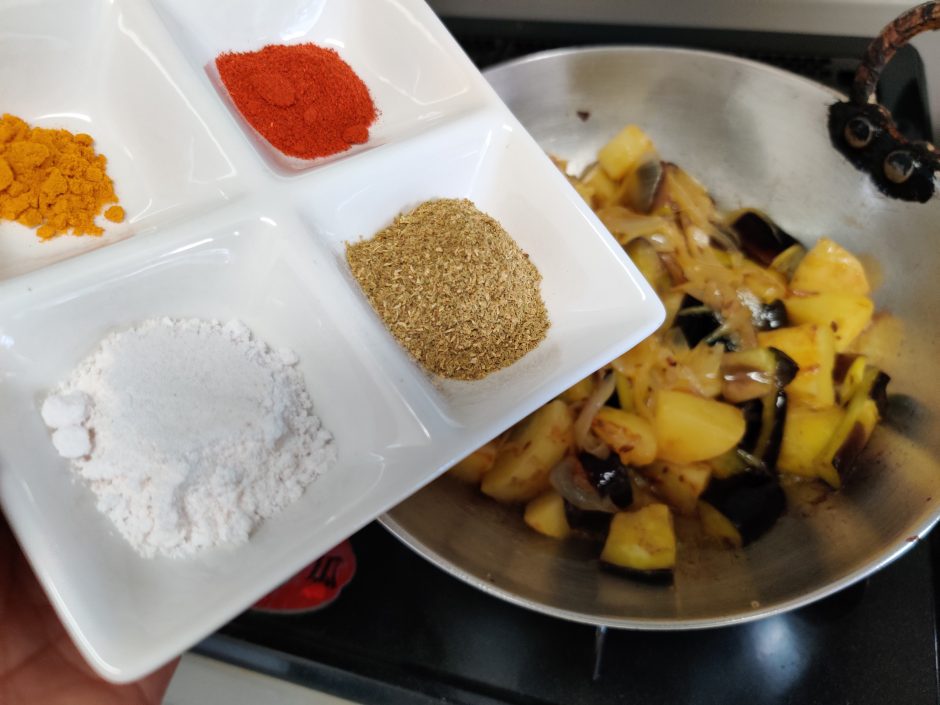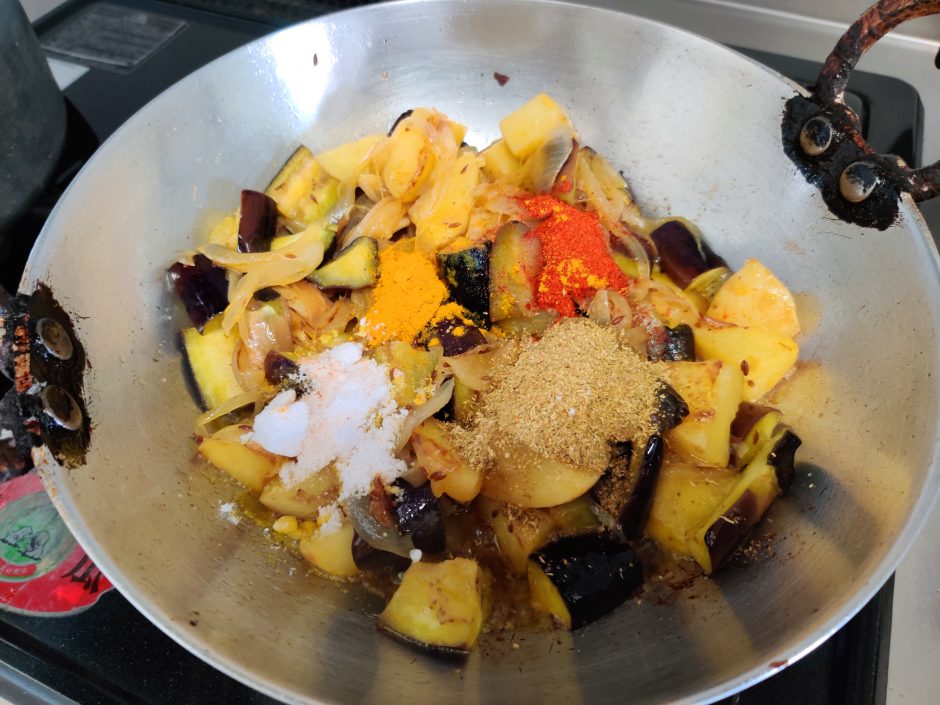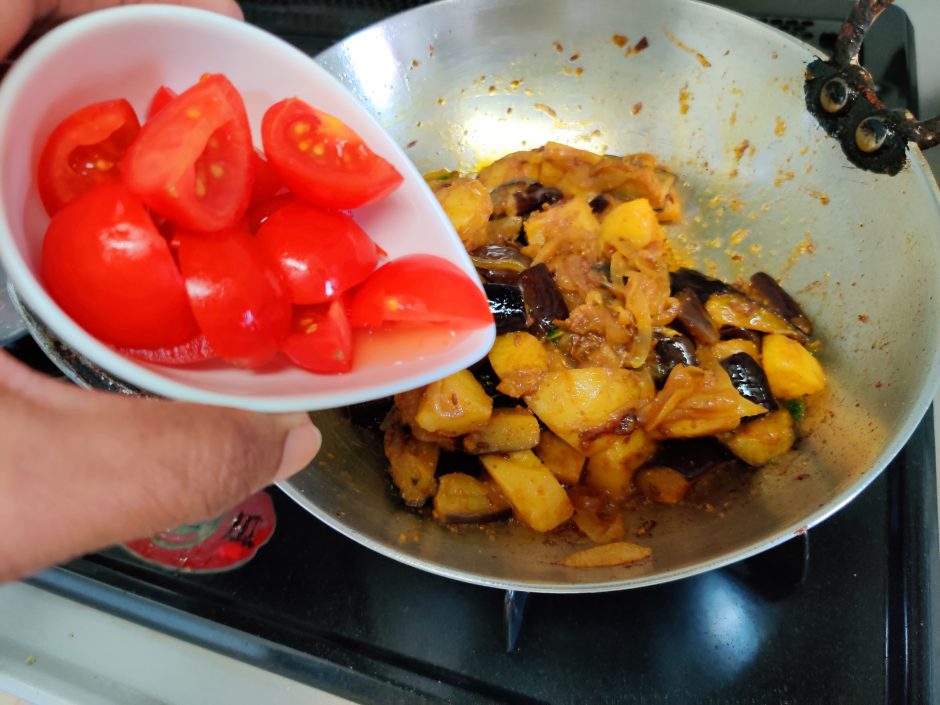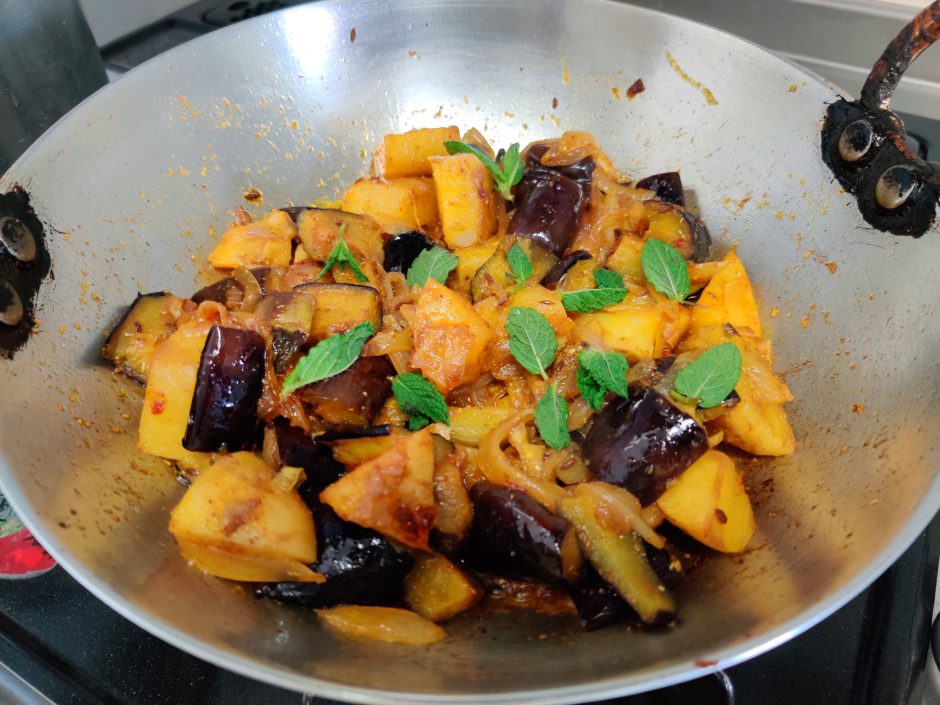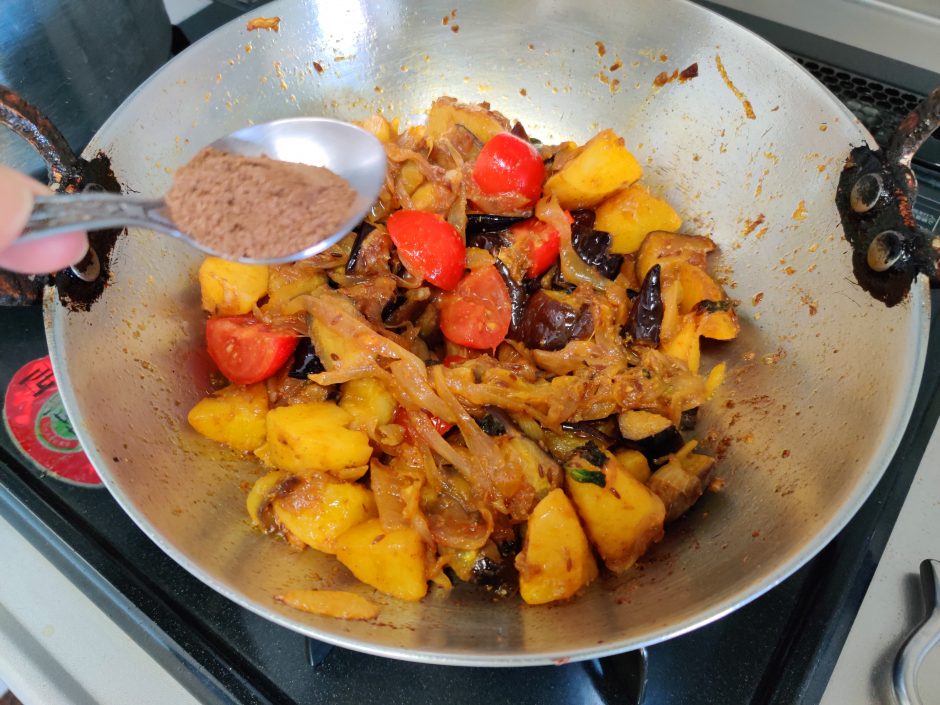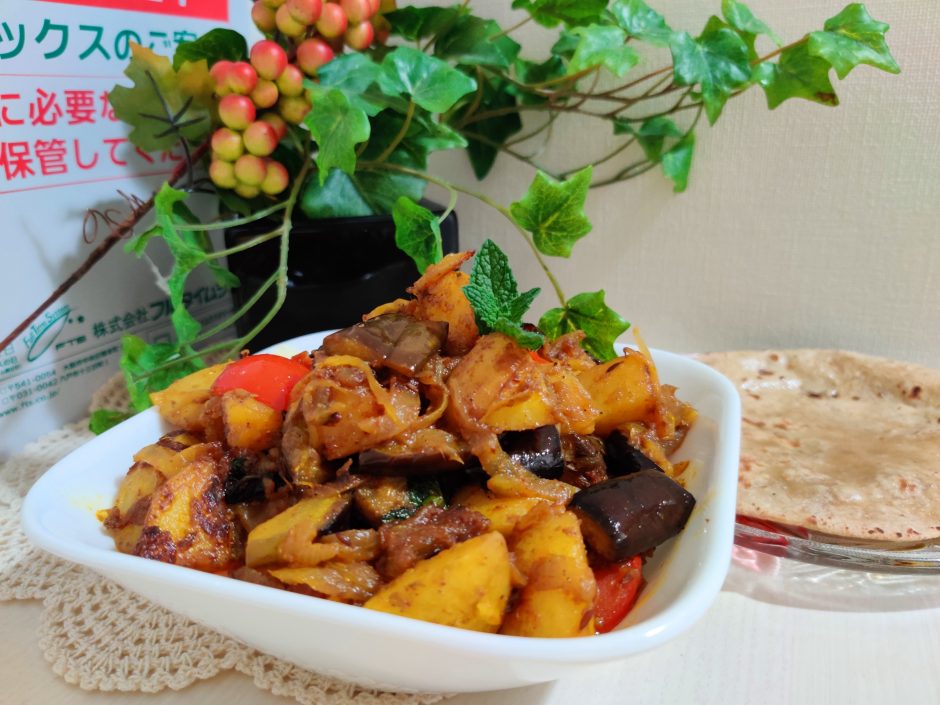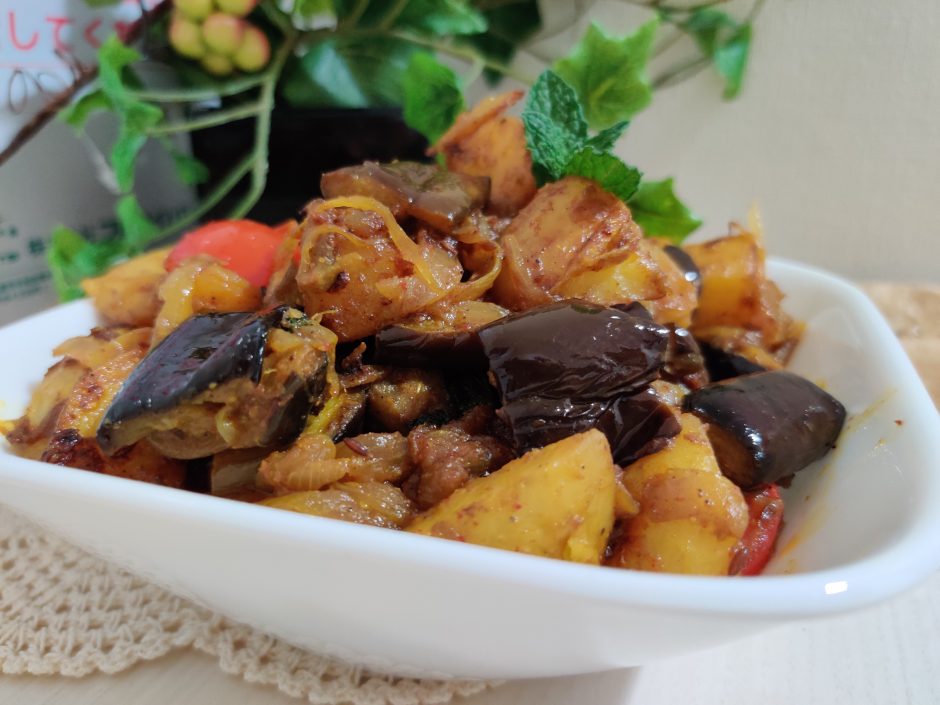 Dry Aaloo – Baigan (potato-egg plant) with Sliced Onion by Nag Ratna Sahu is licensed under a Creative Commons Attribution-NonCommercial-ShareAlike 4.0 International License.